Dead or Alive: The Movie
Impact Pictures and Constantin Films are adapting Tecmo's hit Dead or Alive franchise for the big screen. Details inside.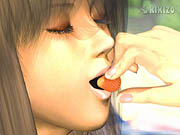 News emerged today that Impact Pictures and Constantin Films are bringing Tecmo's Dead or Alive video game franchise to the big screen. Mindfire Entertainment are also said to be involved in the project.
With other projects in the pipeline such as Driver and Resident Evil 2 (the follow up to the reasonably good Resident Evil movie), Impact Pictures are clearly extending their faith and investment in game-franchise-to-film projects.
The co-founders of Impact, Paul Anderson and Jeremy Bolt, are producing Dead or Alive: The Movie as part of their existing deal with Constantin Films, while the script for the movie is being written by J.F. Lawton (Pretty Woman). The film is set to go into production this year, with a theatrical release slated for third quarter 2004.
With the huge public relations success of Dead or Alive: Xtreme Beach Volleyball, the movie is set to co-incide with the release of Dead or Alive 4, rumored to be unveiled at the E3 show in Los Angeles next month.
Stay tuned for more details as we get them...
John Gold
Dead or Alive enthusiast, Kikizo Movies