Terminator 3 DVD and Terminator 4 Details
Check out the list of features for the T3 DVD, plus get the latest word on T4 from Kassar, who says screenplay will be ready in eight months!
Warner Brothers have revealed that the US release of the Terminator 3 DVD will hit shelves on November 11, with a bunch of special DVD features confirmed.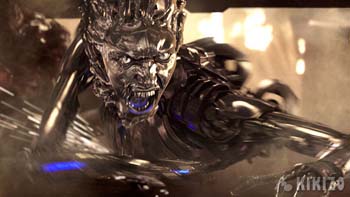 And there's more good news for fans of the movie - it looks as though the normal Warner Brothers style clip-box will not be used for the T3 DVD, with the packaging instead featuring a regular (and obviously much better) case - just like the UK version of the DVD that will be released by Sony Pictures.
The list of features confirmed for the DVD is as follows:
Two Commentaries including Jonathan Mostow, Arnold Schwarzenegger, Nick Stahl, Claire Danes and Kristanna Loken.
Introduction by Arnold Schwarzenegger.
"Revealing New Footage".
On-Set Gag Reel.
T3 Visual Effects Lab: Four Interactive Effects Labs That Let Viewers Build Their Own Rip-Roaring Action Scene.
Skynet Database: Integrated Profiles That Contain Original Written Material and Behind the Scenes Profiles Mixed with Visual Effects to Create a Stylized Dossier.
Terminator Timeline.
HBO First Look Documentary.
The Making of the Video Game
Galleries of Storyboards, Dressed to Kill Costume/Production Designs, and Posters.
Toys In Action
Film Trailers - Alternate and International Trailers.
Video Game Trailer - Terminator 3 Rise of the Machines from Atari.
Enhanced features for the DVD-ROM PC include an "explosive Terminator 3 game demo" and a "link to the Terminator 3: Rise of the Machines website". Now that's gotta be worth the purchase by itself.
In other Terminator news, Executive Producer Mario Kassar recently spoke to The Movie Guide, a Lebanese film magazine, regarding production for Terminator 4, which is practically as good as confirmed at this stage.
"T4 is in the works. The screenplay will be ready in 8 or 9 months. Once we have that, we will proceed with the production. The question that has never been answered in all the Terminator films is time travel. You can come from the future to change the present. But we never see how they go back to the future, which is a subject that can be explored. I think you already know where T4 is going from the ending of T3".
In another recent interview, Kassar was quoted as saying that T4 will go ahead "with or without" Arnie, after the worry that he may be too busy governing California to make any more Terminator films.
We already have our T4 countdown running in anticipation.
Adam Doree
Editorial Director, Kikizo Movies