Charlie's Angels: Full Throttle
The sexiest trio in movie history is back, promising a petrol-charged joyride that's sassier, hotter and fuelled with more thrills and spills that ever before. Full preview time.
M o v i e D e t a i l s

Format
Theatre

Director
McG

Distributor
Columbia Pictures

Genre
Action

Release
June 27 (us)
July 4 (uk)
The sexiest trio in movie (and television) history is back! And if the trailer is anything to go by, this petrol-charged joyride is going to be sassier, hotter and fuelled with more thrills and spills of the espionage kind than its first instalment! Great heavens - the angels are about to land this summer, and we can't wait.
Exploding onto a cinema screens this summer, Diaz, Barrymore and Liu reprise their roles as the sexy daredevil agents from the Charles Townsend Detective Agency, having saved their boss from being the target of a personal vendetta in their previous adventure.
Those leads fixed, it's then no surprise that it looks like Bill Murray isn't back for a second helping as Charlie's lead assignment man, Bosley, after numerous reports of squabbles on set with Lucy Liu. And after other commitments forced Jamie Foxx (who was in the original script was to play Bosley's son) to drop out - Columbia has gone and done one better by roping comedic genius Bernic Mac (best known for his role as the wisecracking inside man in Ocean's Eleven) in on the act as the new Bosley.
So onto this new adventure, the Angels are called in to investigate when the theft of a confidential witness protection database leads to the murder of five people from the program. Linked to the murders are the main antagonist, Madison Lee (Demi Moore) of whom the team discover is a 'fallen' angel and an ex-agent of Charlie's, who's joined the dark side with big plans.
Fans of both the first film and those especially big on Back to the Future will also be pleased to see the surprise return of Crispin Glover as the creepy thin man (didn't he get his ass-kicked by Liu and died after Rockwell bombed the castle in the first one?!?). We're hoping that there's a few more action sequences scripted in for him as we here at Kikizo just can't get over the fact that George "hey you, get your damn hands off of her" McFly can kick butt - honestly!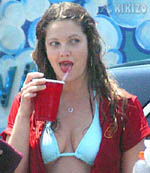 From directorial snip-bits, it appears that supporting Moore and Clover in the villain category will be Emmers (Rodrigo Santoro) who McG has referred to as "like the male composite of our three Angels". Bearing in mind this brooding villain is super built and doing all of his stunts on set, Emmers looks like he'll be raising the bar on the physical challenge each angel will have to face and the solid threat he's looking to pose to the girls. Which sounds pretty cool, especially as McG has changed the style and direction of the fight and action sequences - making the overall feel much grittier, to the point and edgier than the first one.
If the no nonsense action-geared trailer (where the angels crash a truck off a bridge to escape from being blown to smithereens, with Diaz jumping into a chopper and Barrymore/Liu skydiving away as the truck explodes) is an indication of what to expect then under this careful direction of hyper-active McG again, the sequel looks like it was be sticking to the same tongue-and-cheek, stylishly sexy, costume changing, kick-ass formula that made the first one the box office hit it became.
With the high budget and slick production values pumping into Full Throttle, Columbia will no doubt be hoping it'll be more than a competent rival to other fantasy action flicks like X-Men 2 and The Hulk - also out this summer. With other fun stars such as Matt LeBlanc and Luke Wilson returning as the unknowing boyfriends of the angels, cool cameos by Robert Patrick (playing a US marshal), John Cleese (Liu's dad), Pink and even the Olsen twins to name a few. We'll be keeping a close eye on this film's progress here at Kikizo so log back on for more updates on Full Throttle and all of this summer's blockbusters!