The Day After Tomorrow
Where will you be? If first impressions are anything to go by, the answer is "straight to the movies" come May 28. Full review soon!
M o v i e D e t a i l s

Format
Theatre

Director
Roland Emmerich

Distributor
20th Century Fox

Genre
Action

Release
May 28 (global)
We can only guess why they didn't call this one "in a couple of days", but we dare say it has something to do with dramatic effect. The Day After Tomorrow is the latest big budget effort from Independence Day Director Roland Emmerich, with a cast fronted by the recently impressive Dennis Quaid and Emmerich's fascination with wiping us all from the face of the earth. God forbid this man be given political power to wield.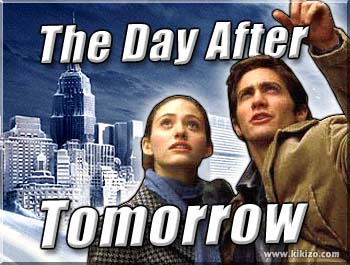 But rather than pit humanity against an alien enemy, The Day After Tomorrow sees our lowly species under attack from the scariest woman this side of Christina Aguilera - Mother Nature. Whilst disaster movies haven't been in short supply over the past decade or so (Armageddon and Deep Impact immediately spring to mind), Emmerich's direction is bound to result in the kind of visual shock and awe we first saw in Independence Day, and with a budget somewhere in the region of $125 million dollars, there's little reason to believe that this movie will deliver anything short of epic destruction.
So you can expect the likes of Earthquakes, Hurricanes, huge, city-engulfing tidal waves and the onset of the new ice age to feature heavily in Twentieth Century Fox's biggie for this year. But whilst Earths most prominent locales become the stage for annihilation of the highest order, there's a story to be told - a human story, no less. Dennis Quaid plays Paleoclimatologist Jack Hall, who discovers that the earth is due some bad weather, to say the least.
On making the discovery, Jack attempts to convince the U.S. President to evacuate the population and send them south where the weathers toll on civilisation isn't so devastating. Amongst those in peril is Jack's Son Sam, portrayed by Jake Gyllenhaal (he of Donnie Darko fame), who becomes stranded in the now Arctic New York City with love interest Laura, played by Emmy Rossum (Mystic River). With little hope of being rescued, it falls on Jack to make the hazardous trek to the now Arctic New York to save his son.
Make no mistake: Emmerich has clearly gone full out to deliver something visually stunning and horrifying in equal measures. Only 3 years after the 9/11 tragedy, some may find it difficult to watch New York subjected to this films proposed level of devastation, but rest at ease knowing this isn't senseless, for-effect devastation. After all, Emmerich's never been too subtle when attempting to put his morality play across, and The Day After Tomorrow is absolutely no different.
Couple this trademark Emmerich visual panache with a rising but albeit talented cast and The Day After Tomorrow looks promising enough to warrant cautious interest. Our only significant concern is the reportedly weak script, but with much of the emphasis being put on the visual tale in this movie, a weak script doesn't fetter our curiosity any.
The Day After Tomorrow is due for a worldwide release on May 28th, something you'll be acutely aware of some weeks before then. With Fox hoping to repeat the success of Independence Day $510 million box office takings, you can bet that this one is going to receive a level of exposure reserved for the Summer Blockbusters.
Jamie Thomson
Film Critic, Kikizo Movies