Shrek 2
Shrek, Princess, Donkey and even the ginger bread man are all back in a land far, far away. Awesome new photos in our preview.
M o v i e D e t a i l s

Format
Theatre

Director
Andrew Adamson

Distributor
DreamWorks

Genre
Animation / Comedy

Release
May 21 (us)
Jul 2 (uk)
After watching the first Shrek movie, I thought it silly that I enjoyed a family film so much. But as Shrek, Monsters Inc and the recent animated blockbuster, Finding Nemo prove, the family film has taken massive, giant leaps to ensure it lives up to its name by providing both kids and adults with plenty to laugh at. So with the arrival of Shrek 2, parents the world over can breathe a sigh of relief: My Little Pony the Movie this isn't.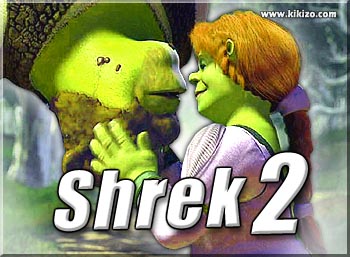 And thank god for that, for Shrek 2 looks set to capitalise on the impressive package delivered by its predecessor back in 2001, whilst upping the ante in anticipation of the slew of copycat productions that seem destined to piggyback its success. From what's already been seen of this sequel, Shrek 2 promises to deliver
The story picks up from the ending we were left with in the original Shrek, and things couldn't be rosier for the newlywed couple. But danger awaits the couple as they return from their Honeymoon - and meet the in-laws (played by John Cleese and Julie Andrews). Along the way, they'll meet the Fairy Godmother (played by British Comedienne Jennifer Saunders), a disgruntled and pride-stripped Prince Charming (Rupert Everett) and, in what is shaping up to be the finest casting choice of the roster, Antonio Banderas plays the feline Ogre Slayer, Puss in Boots.
Making a welcome return to the cast is Eddie Murphy as Donkey (we're willing to forgive him for Pluto Nash and Haunted Mansion if he repeats the sterling voice work from the original), John Lithgow as the toffee-nosed Prince Farquaad, Cameron Diaz as Fiona and Mike Meyers, who reprises his role (complete with that accent) as Shrek. With perhaps an even stronger supporting cast on hand than in the original, the success of this movie largely hangs on whether it can add to the already proven formula.
With Shrek 2, we can expect the same irreverent interpretations of fairy tales of yore, with lashings of quirky dialogue and the same, if not better standard of computer generated characters and locales that made the first film such an absorbing visual jaunt. With talk of Shrek 3 already in planning, Shrek has pre-empted public response and truly taken the reins as the most successful animated franchise since Toy Story.
DreamWorks originally planned for Shrek 2 to hit cinema screens in June, but given the phenomenal success that Finding Nemo enjoyed in a late May slot, we're getting it a whole month early. Come this May 21st, amidst a Greek epic, the world ending and Vampire Hunters, there'll be something to laugh about.
Jamie Thomson
Film Critic, Kikizo Movies