Spider-Man 2
Spider-Man is back on our screens this summer - but does he really stand a chance against his formidable new foe, Dr. Otto Octavius? All-new photos in our preview.
M o v i e D e t a i l s

Format
Theatre

Director
Sam Raimi

Distributor
Columbia Pictures

Genre
Action

Release
Jun 30 (us)
Jul 15 (uk)
Spider-Man dominated this reviewer's formative years: whether it was the hook of web slinging, witticisms or reading about a teenager "with problems just like mine!", each volume was essential reading. So when the first Spider-Man film made its debut 2 years ago, everyone who grew up with Peter Parker and his alter ego needed to see their beloved hero done justice.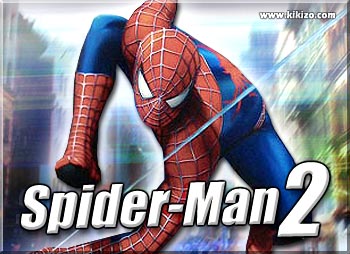 Naturally, there was very little to worry about and with Spider-Man 2 so very close to being released, fans wouldn't be wrong to expect the same high standard of storytelling, albeit with a set of new faces and villains to add to the mix. With the Green Goblin dead as of the end of the first movie, speculation was rife as to who would face off against Spidey in the sequel: Kirsten Dunst let slip in a 2002 interview that the second movie would feature two main villains from the comic book series in the form of Doctor Octopus and The Lizard. Fast forward to 2004 and after many script (and script writer) changes, "Doc Ock" remains as the prominent villain, with only The Lizard's human form, Curt Conners, making the cut.
But in this sequel, Spider-Man has one more enemy that he has to deal with, namely a vengeance-consumed Harry Osborne (James Franco) who'll stop at nothing to see Spider-Man pays for the death of his Father. As luck would have it, it's a botched Osborne Industries experiment that fuses the exoskeleton to the spine of Dr Otto Octavius (Alfred Molina), giving Harry a means by which to confront, defeat and unmask his elusive prey. All the while, Peter Parker (Tobey Maguire) is struggling to balance his civilian life with his Spider-Man alter ego, with his College grades falling short of the mark and a sudden firing from The Daily Bugle. On top of all this, Mary Jane (Kirsten Dunst) finds a new man in the form of John Jameson (Daniel Gilles), the Son of Peter's former boss, J. Jonah Jameson.
Fans of the first movie will no doubt flock to the sequel without a moment's hesitation, but fans of the comic book are getting excited now, thanks to the inclusion (and possible future exploitation of) some new faces to the story. First of real note is Felicia Hardy, who long standing Spidey fans will know better as The Black Cat, and John Jameson, the all-American hero who in the comic book becomes Man-Wolf. With a third movie in the pipelines (with all but Director Sam Raimi a dead cert to return), we can only hope that these characters get some development beyond their initial introduction.
As mentioned previously, the script has undergone some massive changes since the duo responsible for Shanghai Noon were brought on board initially, which explains the inaccuracy of Dunst's previous comments. Eventually, after a change back to the first movie's Script Writer (David Koepp), the studio settled on Prize winning author Michael Chabon to take the reins. With that, The Lizard and The Black Cat lost out and were restricted to civilian roles. Still, we can hope for the future, no?
Steve Ditko and Stan Lee's creation have seen their 40-year-old collaboration brought to an entirely new audience, one so successful that the sequel (with an estimated budget of $210 million!) seems certain to stand unopposed when it's released on June 30th. The question isn't so much if there's to be a 3rd movie, rather which Villains will feature - which says a lot of fan expectation, if not more about the confidence Sony Pictures has in this franchise. Why, if I had the same means as Peter Parker, I'd be web slinging my way to the theatre this June.
Jamie Thomson
Film Critic, Kikizo Movies