Terminator 3: The Rise of the Machines
The third film in the Terminator series is almost upon us, but is it what fans have been praying for? We make some predictions in this early preview.
M o v i e D e t a i l s

Format
Theatre

Director
Jonathan Mostow

Distributor
Warner Bros

Genre
Action Sci-Fi

Release
July 2 (us)
Aug 1 (uk)
As the long awaited sequel to The Terminator in 1984 and 1991's T2: Judgement Day, this third film has an awful lot to live up to. The good news is that Arnold Schwarzenegger once again reprises his role as the (now relatively antiquated) T-800 cyborg.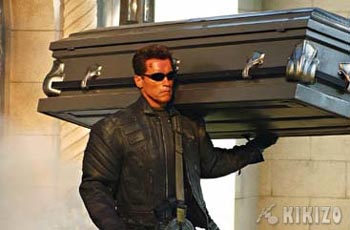 However, Arnie is the only familiar face you're likely to see, as neither Linda Hamilton, nor Edward Furlong will be appearing as their characters, Sarah and John Connor. There has been word that Sarah Connor may appear in flashback sequences, though it's not known whether this is simply footage from the first two films.
Taking on the role of John Connor is Nick Stahl (In the Bedroom), while his love interest Kate Miller is played by Claire Danes (The Hours) and Kristanna Loken plays as the T-X, the new and vastly improved (female) Terminator.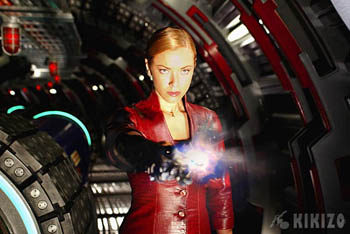 Kristanna Loken as the new T-X machine.
Jonathan Mostow is taking over from James Cameron, as Director and the musical score will be done by Marco Beltrami, composer of the "Scream" trilogy, and not Brad Fiedel, composer of the well loved and familiar music from 'Terminator' and 'T2'. Which all kind of makes you wonder what the finished article will be like.
What we do know is that the movie is set a decade after John Connor helped to prevent Judgement Day and save mankind from mass destruction. Now 25, Connor lives an anonymous life - no home, no credit cards, no cell phone and no job. In fact, no record at all of his existence and, therefore, no way he can be traced by Skynet, the source of the highly developed network of machines that once tried to kill him and wage war on humanity.
Until, out of the shadows of the future, steps the T-X, Skynet's most sophisticated cyborg killing machine yet. Sent back through time to complete the job left unfinished by her predecessor, the T-1000, this machine is as relentless as her human guise is beautiful, with even more deadly abilities and power over all machines.
As before, Connor's only hope for survival is a new T-800 Terminator unit, also sent back from the future to protect him. Together they must do battle against the technologically superior T-X, but can they forestall the looming threat of Judgement Day, or will they face the apocalypse and the fall of civilisation as we know it?
When T3's director, Jonathan Mostow, says that Kristanna Loken "stood out" from the 10,000 actresses he had to consider for the role of T-X, he wasn't kidding. At 5-foot-11 and dressed in red leather, she is hard to miss. She uses her "femininity" as a weapon and has been nicknamed "The Terminatrix". And yes, for those who could do without seeing Schwarzenegger's ass again, she is naked when she first appears and in fact, there's an early scene in which she walk naked down Rodeo Drive.
And speaking of Schwarzenegger's ass, what sort of shape can we expect him to be in, given that he was 54 when shooting began last spring and was just four months recovered from breaking six ribs in a motorcycle accident? Well, although he does inevitably look older, he put himself through a big workout regimen before filming and looks pretty damn good. As the big guy himself said, "The Terminator always arrives naked and there's no bigger incentive for working out, than knowing you're going to be naked in a movie!"
Did he mind getting beaten up by a girl? He apparently thought it was a great idea. He knew, better than anybody, that watching this beautiful woman kick his butt would be extremely entertaining for the audience.
Claire Danes' character, Kate Miller, is a veterinarian, who is kidnapped by the Terminator, prompting John Connor to come to her rescue, followed by inevitable adventure. She gets to do a lot of running, panting and expressing fear.
As someone who saw 'Terminator 2' when she was 11 years old, Claire has been quoted as saying that for a long time on set, she couldn't think of Arnold Schwarzenegger as anything other than this larger than life superhuman being, but that gradually, over the course of shooting, she came to see him as the lovely, accessible person he is.
For die-hard fans of the 'Terminator' films, 'T3' will be a must see, even if it's just to answer those niggling questions, such as, "If the T-800 went to such lengths to make sure he was completely destroyed at the end of 'T2', how did Skynet develop their machines after all?"
Well, hopefully, we'll find out on July 2, 2003.
And of course, Arnie gets to say, "She'll be back"!
John Gold
Film critic, Kikizo Movies