The Incredibles
Pixar is set to impress once again, with its final Disney project. Amazing new media inside.
M o v i e D e t a i l s

Format
Theatre

Director
Brad Bird

Distributor
Walt Disney Pictures

Genre
Animaiton

Release
Nov 5 (us)
Dec 3 (uk)
If you can give me an example of one Pixar stinker, I'll eat my hat; these guys have been pumping out quality productions since the impact of the seminal Toy Story and haven't looked back. With Finding Nemo succeeding at both the box office and DVD charts, it's easily forgivable to assume their next production is going to be twice as visually engaging, ten times as funny and infinitely more successful than the poor schmuck of a movie opening against it.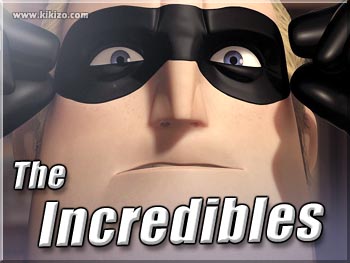 Come this November, the folks at Pixar looks set to deliver on those lofty expectations and build upon its already mighty tower of success with the release of The Incredibles, its sixth movie and quite probably its sixth success story.
But with new guy Brad Bird (Iron Giant) on board as Director and Screenwriter, such a massive change means we'd be wise to reserve judgement until our eyes are firmly gripped on the cinema screen. Not that this is in any way a question of Brad Bird's credentials, as his previous work, The Iron Giant was in fact a very enjoyable movie, let down by the distributors' poor marketing strategy.
Ok, so maybe this isn't going to be a textbook Pixar project but all the same, we're excited by what is shaping up to be a movie that combines the concept of The Fantastic Four and the dysfunctional pandemonium of Family Guy - seriously, how good does that sound?
The basic premise follows the story of a dysfunctional family of retired superheroes living in suburbia under the witness protection program, in an effort to hide from their supervillain counterparts. But as you'd expect, evil doesn't take a vacation and the family are called back into action, despite the head of the household (played by Craig T Nelson) not quite being up to the task.
Other castings include Samuel L. Jackson, Holly Hunter and Kevin Smith stalwart Jason Lee (Mallrats, Jersey Girl) - a roster impressive enough to warrant our initial, lofty expectations of Pixar. With this cast providing the voices, we're at least glad that Pixar has brought in the heavyweights to lend their able vocal talents to Pixar's industry-redefining animation skills.
Pixar's press department are as secretive as the best intelligence agencies in the world, and other than what we've been able to sneak out of their heavily fortified offices, there's very little else to go on. Rest assured however that come November (and most likely the weeks leading up to its release), you'll know as much as you need without spoiling the movie.
Jamie Thomson
Film Critic, Kikizo Movies