About Schmidt
Jack Nicholson stars in this brainy little movie about old age, the American Midwest and ways in which we lie to each other and ourselves.
M o v i e D e t a i l s

Format
Theatre

Director
Alexander Payne

Distributor
New Line Cinema

Genre
Drama

Release
Out Now
Flamboyant in some movies and artfully restrained in others, 65-year-old Jack Nicholson was looking at his 12th Oscar nomination for his performance, in director Alexander Payne's deliberately slow-paced but insightfully moving portrait of a life's third act.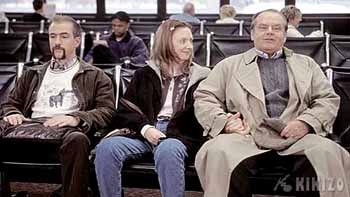 For all the Jack Nicholsons we have seen at the movies over the past 40 odd years, we have never seen the Jack Nicholson who stars in 'About Schmidt'. For one thing, he plays a man of his own age and looks it.
Warren Schmidt is a 66 year old Midwesterner - a gray, stocky and mild-mannered little man - who has spent almost his entire life toiling as an actuary in an anonymous Omaha insurance company. Our hero is a crushingly ordinary man, who has never paid much attention to what was going on outside his office.
We meet Schmidt on the day of his retirement. Sitting at his empty desk, with packed boxes neatly stacked against the wall, he stolidly watches the clock as it tick-tocks to 5 o'clock for the last time in his working life.
Schmidt isn't crazy about his 42 year marriage to the dowdy Helen (June Squibb): "Who is this old woman living in my house?" and isn't exactly looking forward to spending the rest of his days travelling around the country in the huge Winnebago that she has nagged him into buying.
When Helen suddenly dies, Schmidt pleads with his treasured but alienated daughter Jeannie (Hope Davis) to stay with him a while, but she refuses and returns home to Denver with her fiancÚ, Randall (Dermot Mulroney), a dim-witted, underachieving waterbed salesman, whom Schmidt hates and believes is beneath her.
Things are so rocky between father and daughter that when Schmidt informs Jeannie he wants to visit, she demands he wait until just before her impending wedding.
Cast adrift, with no job, no wife and no family, Schmidt is desperate to find something meaningful in his thoroughly unimpressive life and sets out - in the motor home - on a journey of self discovery, exploring his roots across Nebraska.
During this darkly comic and painful odyssey, Schmidt details his adventures and shares his observations with Ndugu Umbo, a six year old Tanzanian orphan whom he sponsors for $22 a month through an organisation that advertises on TV. Encouraged by the charity to write to his charge, Schmidt composes hilariously morose and inappropriate letters that are more suited to a therapy session and which we hear in the voice-over narrative. What Schmidt tells Ndugu and what we see him doing are often preposterously opposed and deliver some of the sharpest laughs. From these long letters, filled with a lifetime of things unsaid, Schmidt begins to see himself and the life he has lived with new eyes.
Upon his eventual arrival in Denver, Schmidt is appalled by the free-spirited nature and boorish behaviour of his soon-to-be in-laws, the low-class redneck Hertzels (Kathy Bates and Howard Hesseman) and is swiftly convinced that his new purpose in life is to prevent his daughter's marriage.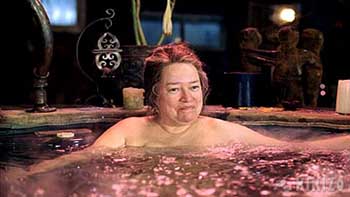 About Schmidt is wittily written and wonderfully acted and it's hard not to focus on Nicholson - because that's what the film does. The entire cast plays up to his level, especially Davis as his nervy, slightly gloomy daughter and Kathy Bates in a hilarious turn as the aging, full-bodied, hippy mother-in-law-to-be, Roberta, who - in a much talked about scene - drops her clothes to jump into a hot tub with Schmidt.
It is impossible to imagine About Schmidt without Jack Nicholson. With this performance he redeems his every cinematic over-indulgence with an empathetic, finely tuned and often achingly funny portrait of an ordinary man facing life's big questions just as the end of his personal road is coming into sight.
John Gold
Film Critic, Kikizo Movies
T H E S C O R E S
| | | | | |
| --- | --- | --- | --- | --- |
| Screenplay | Direction | Cinematics | Production | Overall |
| 9.0 | 8.5 | 6.5 | 7.0 | 7.9 |
The Final Word: This is Nicholson without the devilish glint or the raised eyebrow. It is also Nicholson at his bravest and riskiest. By exercising restraint and staying alert to the smallest details, he delivers a monumental performance that blasts your expectations and batters your heart. A superb film.