American Splendor
Paul Giamatti puts in the performance of a lifetime as underground comic writer Harvey Pekar. Out now Stateside and hitting the UK January 2, here's our review.
M o v i e D e t a i l s

Format
Theatre

Director
Shari Springer Berman

Distributor
NewLine Cinema

Genre
Drama

Release
Out Now (US)
Jan 2 (UK)
Walking into American Splendor, I knew absolutely nothing about Harvey Pekar. But, being a devotee of the comic book medium, and hearing the buzzing crescendo surrounding the movie thanks to outstanding performances at Sundance and other festivals, I decided to give it the ol' college try. A hundred minutes later, I exited the theater with a new appreciation for the man, this grouchy, grumbling, depressed slob who allowed me to sneak a peak at his soul.
The summer of 2003 has seen several comic book movies hit the silver screen. While the quality has ranged from good (X-Men 2) to eye-gougingly bad (Daredevil), the genre is still searching for that champion that will demonstrate to those who would rather be dead than in a comic store just what the medium is capable of outside of the world of spandex-clad super heroes. American Splendor just might be that movie. The movie is based on the comic series of the same name by Harvey Pekar, who, in the mid 1970s, gained notoriety as a mouthpiece for the working man with his hilarious observations and hyperbolic characters. Later work together with his wife on his battle with cancer later in life solidified Pekar as a true cult figure in the comic industry.
One of the early scenes in the film sees Pekar (Paul Giamatti) scrounging about at a yard sale. Sauntering from table to table, he leafs through old jazz records, while discussing comics and music with his friend, the soon-to-be-renowned underground comic book artist Robert Crumb (James Urbaniak). What seems like a simple set piece immediately tells us nearly all we need to know about Pekar. He's unkempt, neurotic, morose, but he's also passionate, impulsive and obsessive. He doesn't just like jazz, he lives for it. He envelops himself in his passions. Later, we find him at his dead end job, where he whiles away his days carting files around at a hospital in between bouts of wallowing in the solitary misery of his life.
But Pekar's misery is our gain. This dreary existence is the impetus behind him putting pencil to paper in a vain attempt to rid himself of his lethargic demons. An underground hero is born, someone for the common man to relate to. And the common woman. Missing an issue of your favorite comic is one of the worst ordeals for the four-color crowd, so it's understandable that Joyce (Hope Davis) is all in a tizzy after being denied her fix. Desperate for help, she calls Pekar, and the next thing you know, they're married. I did mention that Pekar was impulsive, didn't I?
What follows is the couple's rollercoaster ride through the succeeding decades, from the giddy highs of comic book success to the desperate woes of cancer and laughably disastrous Letterman appearances. But through it all, there is a reassuring sense of consistency about the characters. Giamatti, who until now has been largely relegated to supporting roles, is mesmerizing.
There are films where actors define themselves as masters of their craft, and for Giamatti, this is it. He allows us to feel Pekar's pain when his life starts crumbling around him and to bask in the resplendent happiness that occasionally pops into our lead characters' lives. His performance solidifies his place as an exceptional actor, a fact that is even more impressive when you remember that this is Giamatti's first starring role. Davis too puts in an excellent performance as Pekar's wife, providing a perfect counterbalance to her perennially depressed spouse. The quality extends to the supporting cast, especially relative newcomer Judah Friedlander as Pekar's kooky friend Toby.
While most movies are content to shackle themselves as either fact or fancy, American Splendor relishes the opportunity to straddle the line. Through gorgeous wrangling, co-directors Shari Springer Berman and Robert Pulcini have pieced together realistically-aged scenes, interviews with the people behind the names, and comic book sequences that should have Hulk director Ang Lee jotting down notes in embarrassment.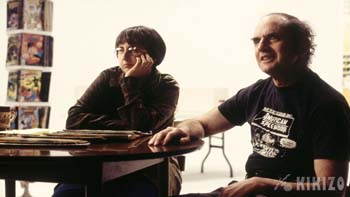 But it doesn't stop there. Every speck of the production oozes style, from the almost surreal interviews with the real-life Pekar and Co. to the grainy appearance of the film stock. The soundtrack, too, is exceptional, with rich, jazzy tones that permeate the on-screen action to create a nigh perfect melding of visual and aural stylings. There are few films that are so obviously the result of a meticulous attention to detail.
Some might find the pace of the film a little plodding at times, but the rich storytelling style of Berman and Pulcini will keep almost everyone firmly adhered to the screen. And coupled with the truly outstanding acting performances, American Splendor provides an experience that should not be missed.
Alex Wollenschlaeger
Film Critic, Kikizo Movies
T H E S C O R E S
| | | | | |
| --- | --- | --- | --- | --- |
| Screenplay | Direction | Cinematics | Production | Overall |
| 9.0 | 9.0 | 9.0 | 9.0 | 9.0 |
The Final Word: If the numerous awards that the film has already picked up aren't enough motivation for you, go to American Splendor to see an actor turn in the performance of a lifetime. This is one of those movies that everyone will talk about, yet nobody will watch. Don't be nobody!