The Amityville Horror
Believable? Who cares, it's scary! Take a tour with us as we take a look around the house of ultimate doom!
M o v i e D e t a i l s

Format
Theatre

Director
Andrew Douglas

Distributor
MGM

Genre
Horror

Release
Out Now
You know the horror movies that rely on the whole 'these events were real' routine to achieve publicity and success? A good example is The Blair Witch Project - and often it's all they have going for them, save for an audience full of gullible kids. But this can surely not describe Texas Chainsaw Massacre producer Michael Bay's latest offering...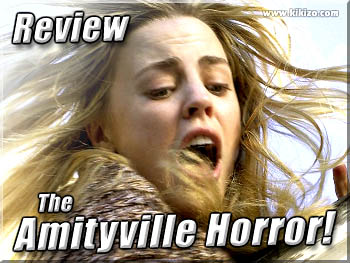 The Amityville Horror is also a "true" story - sort of. Not that we're about to add to the cumulative hype and intrigue, so let's just say right now that it's a decent movie; it's scary for the most part and provides pleasant enough entertainment for a couple of hours - provided, of course, your idea of pleasant entertainment is petrifying visions of screaming and death.
You've got to feel sorry for George Lutz, the man whose family's experience of 28 days in a colonial house in Amityville, NY, inspired the original book and film. In his altered form, Lutz, played by the anatomically pleasing Ryan Reynolds (Blade, Trinity) does not come out of the affair looking too good.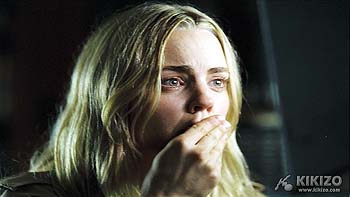 In the 1970s, police discovered the real life horror of the house, where Ronald Defeo Jr. had slaughtered his entire family, subsequently blaming it on the voices in his head (he is, by the way, still in prison - despite his mental health problem being a clear case of schizophrenia). Cue Lutz and family a year on, finding their 'dream house' is anything but. And here's where the lines between fact and fiction blur.
The trailer told us that "what happened in those 28 days is still unexplained". Quite -- the movie gives us the story of George and his wife, Kathy (Melissa George - Mulholland Drive) along with their three children. While it is the youngest, Chelsea (Chloe Moretz), who befriends the ghost of one of the slain children, the real plot is based around George, who slowly descends into lunacy.
Writer Scott Kosar obviously took the original Lutz story as a starting point, so that this (and the original feature) is simply a story based on real names and places. The promoters should perhaps let the film sell itself a little more.
Reynolds' performance is strong; the audience is left with the sense of his instability and cruelty (if little else). His insensitive quips as the house begins to tear the family apart show some range, but he may have to steer clear of the character-shallow horror genre in order to really make an impact.
The rest of the characters were pretty tedious, but hey. As supporting roles tend to be in such chillers, they would have been forgettable if you hadn't worked up such a rage asking 'why are you doing that?' But that's the fun isn't it. Director Andrew Douglas cuts down on most of this farce compared to the original movie. I'm no horror 'purist', so we could get through an irrational spouse and some annoying kids.
It's a less cheesy version of Scream, which doesn't mean we're calling it 'genre-defining' - just that it's ideal for the 'twenties' audience and has many fun elements. It's more in-your-face than the original (which was average), and offers more suspense, arguably justifying the remake.
The standard fright-techniques (hands pulling you under the bath-water, yada yada) are a little tired at times, but Douglas refrains from taking an overboard special effects road. The genuine chilling elements of The Amityville Horror are based around the sinister atmosphere created by Reynolds - playing on the disturbing idea of a normal family guy falling apart and failing his family.
John Gold
Staff Writer, Kikizo Movies
T H E S C O R E S
| | | | | |
| --- | --- | --- | --- | --- |
| Screenplay | Direction | Cinematics | Production | Overall |
| 6.8 | 7.4 | 7.8 | 8.2 | 7.9 |
The Final Word: Let's face it, the most interesting thing about this movie is the hype. That's why we all wanted to see it. The fact that the real George Lutz is fuming at the plotline only adds to the appeal. And it just happens to be a decent horror flick.