Analyze That
Robbie De Niro and Billy Crystal reunite for the sequel to Analyze This, but will you be needing therapy after a second helping?
M o v i e D e t a i l s

Format
Theatre

Director
Harold Ramis

Distributor
Warner Brothers

Genre
Comedy

Release
Out Now
In this sequel to the surprise 1999 hit Analyze This, Robert De Niro and Bill Crystal are reunited for yet another round of their unconventional doctor-patient relationship: Crystal as Dr Ben Sobel, a personal psychiatrist and De Niro as his patient, Paul Vitti, a notorious mob boss. Like its predecessor, this movie is an excuse to have two talented actors play caricatures for which they are famous, and then have them switch roles for a few laughs.
As the movie opens, Vitti is nearing the end of his term in Sing Sing and the FBI agents monitoring him are baffled. Day after day, they watch as New York's most notorious gangland figure walks around his cell in a semi-catatonic stupor, occasionally breaking into songs from 'West Side Story'.
Is Vitti having a nervous breakdown because of recent threats on his life by a rival Family, or is his odd behaviour merely a ploy to get him paroled early? The FBI isn't sure and neither is his former psychiatrist, Ben Sobel, who is called in to consult on the case.
The last time Sobel treated Vitti, he tried to get to the source of his debilitating anxiety attacks, but barely scratched the surface. It will take time to examine the demons still lurking in Vitti's mind and help put him on the straight and narrow - time that Sobel doesn't want to give. Not to Vitti. Not now.
The truth is, Sobel has problems of his own. His father has just died, plunging him into an identity crisis in both his personal and professional lives. Furthermore, he knows his wife Laura (Lisa Kudrow) will be furious if he allows the unpredictable Vitta back into their lives.
However, the reluctant psychiatrist finds that he has no choice, when Vitti is granted a conditional release into Sobel's custody, becoming his patient again and - even worse - his houseguest. In order to bring some peace back into his life, Sobel must help the troubled gangster sort out his psyche, find gainful employment and go straight.
The good news is that Vitti finally appears to be sincere about taking the cure - and Sobel really wants to believe him. But how can he be sure when guys like Louie the Wrench keep showing up?
As sequels go, Analyze That is not the best one ever made, but it's not the worst either. Cystal and De Niro appear to have so much fun playing their doctor-patient roles, that it's kind of contagious. Despite a less believable plot this time, some parts of the movie are even funnier than those humorous therapy scenes in 'Analyze This'. Watching De Niro warble musical numbers from 'West Side Story' - in particular "I Feel Pretty" - is one of the film's comic highlights.
There's a sequence of amusing vignettes when Vitti vainly attempts to hold down a straight job, finally landing a position as a consultant on a 'Sopranos'-like TV show, called 'Little Caesar'.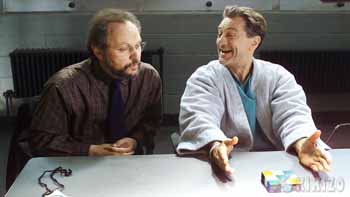 Lisa Kudrow, returning as Sobel's wife, isn't really given enough to do, which is a pity as she manages to wring genuine laughs out of every one of her lines, even if there is more than a touch of Phoebe from 'Friends' in the character. Also making a welcome return is the very funny Joe Viterelli, as Vitti's lieutenant, Jelly.
However, the real entertainment comes from watching Crystal and De Niro - as odd a couple as one could imagine - play off against each other. They have an undeniable chemistry together and, as in the first film, some of the funniest dialogue is so off-the-wall that it appears to be improvised. They squeeze the maximum amount of humour from what is essentially a one-joke film.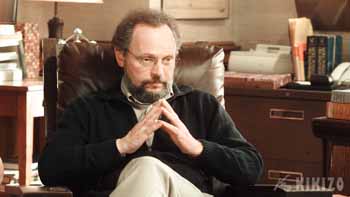 Why are these two characters such a hit with movie fans? Referring to 'Analyze This', Bill Crystal says, "People would stop me on the street and quote lines from the movie, 'You … you're good. You've got a gift', they'd say, imitating Bob (De Niro). It really tickled me. Also people just love to see De Niro abusing me!"
Producer Jane Rosenthal has her own theory. "I think audiences loved seeing Robert De Niro taking his scary screen persona and having fun with it", she said.
John Gold
Film Critic, Kikizo Movies
T H E S C O R E S
| | | | | |
| --- | --- | --- | --- | --- |
| Screenplay | Direction | Cinematics | Production | Overall |
| 8.0 | 7.0 | 7.0 | 7.5 | 7.5 |
The Final Word: There is a definite feeling of "been there-done that" about this movie, but it's worth sticking with anyway. Whatever the reasons behind the success of Crystal and De Niro as Vitti and Sobel, Analyze That taps into that same formula and provides the kind of "laugh therapy" I need from movie comedies - offbeat humour, amusing characters and a happy (if slightly cheesy and contrived) ending. We feel better already.