The Bourne Supremacy
Matt Damon as Jason Bourne is back in the true must-see action film of the summer.
M o v i e D e t a i l s

Format
Theatre

Director
Paul Greengrass

Distributor
Universal Pictures

Genre
Action / thriller

Release
Out Now
The Bourne Supremacy is the sequel to 2002's Bourne Identity and tracks the progress of the enigmatic Jason Bourne, played by Matt Damon. The films are the latest creation of Robert Ludlum's imagination that has made the transition to the big screen. Just as his books captured the hearts of millions worldwide, the movies are now capturing the imagination of many more. Despite being a sequel, the Bourne Supremacy surpasses its predecessor and gives the spy genre a well needed kick in the pants. James Bond could learn a thing or two because the Robert Ludlum adaptation goes back to the basics, focusing on what makes the genre appealing and ignoring CGI. The result is a high-paced, tense affair which keeps the viewer's attention glued to the screen for the duration of the movie. It has all the thrills and spills of a rollercoaster and will leave you begging for more!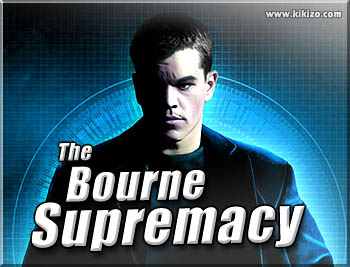 The film carries off where The Bourne Identity finished with Matt Damon's character living with Marie in a far off corner of the world. However when he is framed for a murder he did not commit, the superspy is forced out of hiding and goes back into action in an attempt to leave his past behind him once and for all. The Bourne Supremacy sees Damon take on all comers across Europe, forcing him to live on the edge of his wits as he takes on the might of the intelligence services. Familiar faces in the form of Ward Abbott (Brian Cox) and Nicky (Julia Stiles) return for this adventure and they are joined by a whole host of new cast members in the form of Joan Allen, Karl Urban and Gabriel Mann. As the film progresses Bourne is forced to confront his past, learning more about his life before getting amnesia and trying to make peace with his ghosts. The intelligence services should have known to leave him alone, now Jason Bourne is going to make them wish he was dead.
Spy flicks are ten a penny these days but The Bourne Supremacy stands out for a number of reasons. First off unlike recent efforts like XXX or some of the latest Bond films, the movie sees Bourne rely on his wits rather than the latest gadgetry he has been supplied with. Secondly it is a truly atmospheric affair packed full of tension and suspense which leaves the viewer in a constant state of anxiety, unsure of how the spy will make it out alive and what twist the plot will take next. Finally unlike most similar films, The Bourne Supremacy does not set out to romanticise the notion of being a spy; if anything Jason Bourne would love to be anything else but a covert agent. You are introduced to the dark and murky world of modern espionage, unsure of who to trust as even the good guys are shady characters. In light of recent reports like the 9/11 commission, the lack of cooperation between intelligence organisations is further highlighted as projects exist on a need to know basis which further emphasises the dark nature of groups like the CIA. Everyone seems to want to promote their own agenda without any consideration for anybody else, Jason Bourne is the helpless pawn in their plans but unbeknownst to them he is about to take everybody down with him.
This movie has some of the finest action scenes in recent times; they range from drawn out, intricate sequences to staccato-like bursts of action. Backed by an ambient soundtrack it is almost like watching a dance routine at times, the ingenuity shown by Bourne is mind-blowing and will leave you dreaming of becoming a member of the secret services. Another appealing aspect of the action scenes is that they are kept quite varied, it's not simply a case of continuous shootouts as there are feats of espionage, hand-to-hand combat and incredible stunts. Damon's character always seems to add a new twist to each sequence; for example, in one scene he is being attacked with a knife and Bourne defends himself with a rolled up magazine. While it might sound stupid, the action is incredible to watch and I like to think of it as similar to Jackie Chan's philosophy on fight scenes. Rather than just being another excuse for a couple more broken arms each sequence sets out to entertain and captivate the audience, in this respect The Bourne Supremacy is a resounding success. Bourne manages to surpass all his competitors; he is more resourceful than Bond, bigger balls than XXX and tons more tricks up his sleeve than MacGyver. There are times when you just sit back and wonder how Matt Damon is going to get out of this latest fix, but he manages to escape every time gobsmacking you in the process. The highlight of the movie for me was the extended car chase towards the end of the film; it rates up there as probably the best vehicle sequence I have ever seen.
If I had to criticise The Bourne Supremacy at all it'd probably be because of the film's camerawork; handheld devices are obviously used and the resulting footage is quite shaky and takes some getting used to. The angles are quite disorientating at times and God help you if you happen to be sitting close to the screen! It is worth pointing out however that the camerawork really does add to the film's atmosphere, giving it a rather frantic edge in the process. As a result it becomes six of one and half a dozen of the other as to whether it takes away from or adds to the overall experience. After adjusting to the angles I felt that it made The Bourne Supremacy feel more up close and personal, but others felt that it took away from some of the fight scenes because you couldn't get an overall feel for what was going on. In my opinion it makes the viewer feel much more involved in the film resulting in a more immersive experience, but at the end of the day it's probably best to judge for yourself.
The Bourne Supremacy is backed by a rather strong cast, it seems that you can't go wrong these days with a film that stars Brian Cox and this movie is no exception. Cox impresses once again in his typical dark, authoritative role, his character really exemplifies the two sided nature of the intelligence services. The standout performance of The Bourne Supremacy however goes to Joan Allen, she is gives a strong and driven performance on screen leaving you wondering why her CV looks so sparse. Hopefully the Hollywood bigwigs will sit up and take notice after her part in this movie as she is definitely an actress that I feel has a lot more to offer. The majority of the cast perform their roles with distinction, exemplifying the duality of their characters and leaving the viewer guessing until the last few minutes who the good guys are. It was also nice to see Gabriel Mann on the big screen after his fantastic performance in Buffalo Soldiers, he wasn't as impressive as I would have expected but it's good to see him back in action all the same. My only cast complaint would be about Julia Stiles, one has to wonder how she has managed to fall from grace so quickly? She seems like an amateur on screen at times and one struggles to remember that the actress is a seasoned veteran at this stage, any more stinkers like The Prince and Me and I'm afraid we won't be seeing her for much longer.
Of course you can't talk about a movie without mentioning the star of the show and Matt Damon really shines in The Bourne Supremacy. Up until now I haven't always been his biggest fan, but in this instance I have to congratulate him for his performance which drives the movie forward. In contrast to his best friend Ben Affleck, Damon's career seems to be going from strength to strength these days, but I feel that it is this picture that shows he is truly able to carry a film by himself. He makes Jason Bourne a well rounded figure, giving the spy a human quality that viewers are not always shown. Instead of just focusing on all of his feats we get a glimpse into the mindset of one of the world's best covert agents, the struggle going on in his mind is just as important as any other aspect of the movie. It is all the contrasting sides to his character that makes Jason Bourne such an interesting figure, Damon's facial expressions further reinforce this as their sudden changes match the high paced action and often lead into new sequences. There is already talk of another sequel in the Bourne franchise and judging by this offering I've got my fingers crossed that Matt Damon will agree to reprise the role. We've seen a lot of Bond pretenders come and go in the past but finally here is a legitimate contender for the prize of the ultimate superspy!
Piaras Kelly
Editor, Kikizo Movies
T H E S C O R E S
| | | | | |
| --- | --- | --- | --- | --- |
| Screenplay | Direction | Cinematics | Production | Overall |
| 8.9 | 8.2 | 7.8 | 9.1 | 8.5 |
The Final Word: The Bourne Supremacy is one of best films I have seen all year; I cannot wholeheartedly recommend it enough; with a strong cast and an excellent storyline this film marks yet another great movie release as we move into autumn. The movie has reinvigorated the spy genre and offers the best action scenes you are likely to have seen for a long time. Be warned though, it's best not to watch this moved if you suffer from a heart condition because the sequences are high paced and brimming full of action. It makes for a rip-roaring ride that will have you at the edge of your seat and unless you're suffering from memory loss like the main character of this movie, you'd be mad to miss it! Move over Bond there's a new spy in town and his name is Bourne - Jason Bourne.