Bruce Almighty
In Bruce We Trust? Carrey is back as God for a week - and one thing you can trust is our full review...
M o v i e D e t a i l s

Format
Theatre

Director
Tom Shadyac

Distributor
Universal

Genre
Comedy

Release
Out Now
I'd rather hoped Jim Carrey would return to the kind of role that so befitted him in the mid 90's: Ace Ventura, whilst essentially a one-man rubber-jaw fest, still keeps me chuckling today, albeit with a certain degree of embarrassment. However, given the fickle nature of the viewing audience, it's more than likely Carrey saw the shortcomings of this type of character, which explains his foray into more sober roles (man on the moon, the Truman show) for which he never received the critical acclaim he so desperately deserved.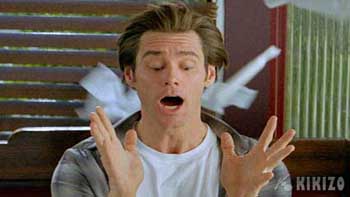 With Bruce Almighty, you'd be forgiven for thinking he's had enough of pandering to the stern-faced academy crowd, returning to form with a role bestowed to him by God (or director Tom Shadyac), no less. Is it time for us to forget the Carrey of old?
Bruce Nolan (Carrey) is having the worst day of his life and it's all Gods fault. Buffalo televisions human-interest reporter is a man who despite all good intentions and a genuine flair for his work is facing his own glass ceiling: nearing 40 he feels like he'll be stuck with human interest stories forever. As he competes with rival Evan for the retiring anchormans position, he's given a live spot preceded by the announcement he's been passed up for promotion again.
Clearly not pleased promotion has eluded him again, his live feed turns into an expletive-filled breakdown, which results in him being fired from the station. If things couldn't get any worse, five minutes after being thrown out of the building, an act of good will sees him beaten up by a gang of thugs, followed by an evening drive ending with his car meeting a lamppost. With all this in mind, Bruce rages at the sky asking why God has forsaken him. Soon afterwards, he is brought to God via pager and asked if he could do a better job than the holy one himself.
So ensues 101 minutes of Jim Carrey back to his usual elastic self, albeit more thoughtful, to such an extent that you almost feel like Carrey sat down and really thought about every joke, unusual given his improv abilities. This approach, first toyed with in the cable guy, sees Carreys effort pay off with far more success. You can't help but wonder whether the subject matter of the film and it's inherent morality trip have constrained Carrey's ability to be spontaneous and plain wacky, so much so that the knock-on affect sees the entire tone of the film brought to a much more manageable comic level, maybe even believable (and that's even before Gods bestows his powers on Bruce).
Thankfully, once empowered Carrey absolutely shines, bringing a fantastic level of stability to his role, with some absolutely hilarious scenes which provide Carrey with a little more freedom than simply his many facial gestures (the mark twain cook-off springs to mind as a fantastic scene demonstrating a far more deliberate and considered approach to his abilities.) Despite having the power of God, Bruce never really exploits that power to it's full potential, nor for (overtly) selfish reasons. Sure, he'll part traffic and turn his rust bucket car into a sleek new sports model but anyone else who had the power of god could think of much more to do than simply advance their careers. Instances where he humiliates the new anchorman live on air and creates stories for himself are hilarious and prove that Carrey is capable of methodical and calculated Hollywood comic-fodder. Of course, when it all goes wrong and Bruce is forced to witness the long-reaching consequences of his inactions, he comes to see that the God job is no stroll in the park.
The price we pay for what is essentially a one-man show is the under used supporting cast. Whilst talented and more than capable of delivering a good performance, they somehow manage to get lost in the fog of morality continuously streaming through this picture. Jennifer Aniston, who plays Carreys love interest Grace, is relegated to being the vehicle for the consequences of Bruce's abuse of God's power, despite her abilities and talent. In fact, Aniston has proven time and time again that she is capable of delivering comic content with confidence and skill, yet appears to be nothing more than the delicate flower that Bruce manages to trample on throughout the movie. It's just a shame given Aniston's abilities to deliver comic content that she appears to be lifeless and a mere spectator to Carreys antics.
Hell, Bruce's dog gets more time in the spotlight than Aniston, which whilst understandable (hey, animals manage to do a better job than some of their human counterparts) is nevertheless a waste of talent. Despite this oversight of talent, Morgan Freeman, or God as seen in this film, delivers his role with maturity and an admirable sense of worldliness, making the repartee between himself and Bruce worthy of a smile. However, these repartees are in short supply and the situations aren't as involved as they could have been.
Ultimately, the character of Bruce is far more endearing to the audience by token of the laughs Carrey provides, as it's all conveyed with a more human character and personality, with the subject matter responsible for the bulk of his outrageousness. His ability to remove himself from the typecasting he's been unfairly painted with for years and play a far more Hollywood role turns up a surprisingly good result, one I hope to see Carrey work on and improve further. This if nothing proves that Carrey is as versatile and talented as any of Hollywood's finest. Hell, he even made me smile with delight at the ending of this film: regardless of his ability as a comedian, he's also capable of a touching and sentimental performance on a Hollywood backdrop.
So are there any elements worthy of criticism? In all fairness, the morality trip seems far too harsh and surely panders to those who are easily offended. Given the relatively jovial nature of the film, it seems a shame to bog it down with such a strong religious theme running through it. The cynics will no doubt view this as another Hollywood attempt to reinstall past values akin to a 1950's household, yet it seems far more likely that it was a compromise. However, Tom Shadyac should be praised for his stance on movie making, as he's defied the critical backlash seen in his previous efforts to produce a film that, whilst somewhat spoilt by an overtly moral story, is still harmless fun.
So, what will you get for your 101 minutes? A comedy that everyone can appreciate, albeit not Carrey's most outrageous or funny. Still, it's bound to be a summer smash, one I think a lot of people will enjoy. Those who have dismissed Carrey based on his earlier roles are advised to give this one a look: he's by far Hollywood's most underrated star.
Jamie Thomson
Film Critic, Kikizo Movies
T H E S C O R E S
| | | | | |
| --- | --- | --- | --- | --- |
| Screenplay | Direction | Cinematics | Production | Overall |
| 7.9 | 7.0 | 7.5 | 7.4 | 7.0 |
The Final Word: Jim Carrey provides the laughs for what will no doubt be a hit this summer. Despite an idealistic moral overtone, the film doesn't take itself too seriously, which given his track record will do Carrey no harm. Recommended.