Fahrenheit 9/11
There's really no excuse for not watching Moore's latest work, regardless of political standpoint.
M o v i e D e t a i l s

Format
Theatre

Director
Michael Moore

Distributor
Lions Gate Films

Genre
Documentary

Release
Out Now
Following his critically acclaimed and Oscar winning documentary Bowling For Columbine, Michael Moore goes straight for the heart of right wing America in his latest outing, Fahrenheit 9/11. Beginning just where George W. Bush won the 2000 US elections, Moore splices unseen and rare footage, facts and figures along with expert analysis and opinion in order to set his case for what he sees as the biggest threat to freedom today.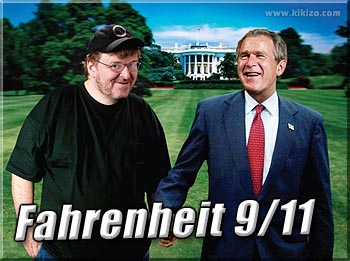 To some, this is the produce of a man who hates everything America stands for, and is nothing more than cheap propaganda. Some feel that Moore is the only person doing what America needs now more than ever, telling the truth. To many of his fans however, this film will be little more than a video presentation of his best selling novel, 'Dude, Where's My Country?', albeit a slightly updated one.
There is little denying that this film packs a punch whether you agree or disagree with Moore's view. Scene after scene, viewers are shown some of the lesser known facts of American policy, especially over the last 4 years. From humorous clips of Bush's lack of common sense to more sinister oil mining deals with the Taliban, there are many questions to be asked from what Moore puts forward. Many will be more than shocked to see footage of Taliban members meeting Texan delegates during Bush's time as the state's governor. I personally was amazed to find out that Hamid Karzai, much touted leader of the new free Afghanistan, was in fact a high flying businessman in the very oil company the USA were trying to work with in the country.
The delicate subject of the attacks on the Twin Towers is handled better than I have seen before; there are no advantages taken as the screen blackens and the sound of two loud crashes is played out. After three years of seeing the same clip played again and again, you are suddenly reminded of the poignancy of such a tragic event. Such an effective technique destroys the desensitisation caused by media and political overkill of the chilling footage.
Moore continues this theme of avoiding opportunism as he stays behind the camera for most of film, at least giving the impression of letting the facts speak for themselves. This is a welcome change, as there were times in previous documentaries where he seemed to be speaking down to the audience from his soap box, rather than just presenting them with the case at hand and allowing them to decide. The story of Lila Lipscomb, a pro-war patriot from Moore's home town of Flint, Michigan is one example of this more tactful approach.
Early scenes show Lila speak of her son, who is serving in Iraq, with great pride. She expresses a distain for anti-war protesters and seems incapable of ever flinching in her support for her countries actions; when news comes through that her son has been tragically killed, all that changes. With her family around her, she reads to the camera her son's last letter, sent only days before his death. We hear about the low morale among troops and how they doubt the reasons they were sent for. In one of the most harrowing scenes of the entire documentary, Lila condemns Bush's actions. We then hear how her son had his final pay check docked for missing days as a result of his death.
One thing that is worth remembering is that while this film can really be described as propaganda, it isn't entirely truthful either. When dealing with the subject of Iraq, Moore avoids the honesty of the situation under Saddam's rule. A pre-war scene of Iraqi children playing in a park would give susceptible people the idea that Iraq was a free and just society, with no tyrannical ruler to fear. Clever editing makes some scenes much more supportive than they possibly should have been, making out that it is just the American right that has its problems; moments like these can on really discredit the good work within. Giving his critics something to pick at only allows them to ignore the serious facts that are brought to the fore.
Moore's relentless attacks on Bush have also drawn criticism and claims of him being un-patriotic. While you would be foolish to go to a Michael Moore film and expect nothing but hard hitting facts served with a pile of grit, one can't help but feel that presenting the same case minus the jokes would give a more powerful, albeit less entertaining, documentary. It is also questionable as to the effect that this work will have on the election. The filmmaker has done what he can to make it a must see, and to have it fresh in the voters minds as they decide, but in a country that is probably at its most polarised for decades, only fickle swing-voters would pledge their vote on the basis of a film. The most likely result is to simply awaken politically disinterested people to what they may have missed and allow them to do their own research if they feel so compelled.
Seeing the injustice in Florida in 2000 as a recount bid failed despite a large campaign for one to take place, watching clips of what can only be described as immature children fighting in Iraq for extremely questionable reasons to say the least, and seeing the heartache that is caused when one of those children dies really brings home the reality of the tangled political scene in America. The effect it is having in the western world and everywhere else across the globe are rammed home, making one pause to think for a moment.
Adam Maguire
Contributor, Kikizo Movies
T H E S C O R E S
| | | | | |
| --- | --- | --- | --- | --- |
| Screenplay | Direction | Cinematics | Production | Overall |
| 9.0 | 7.0 | 5.0 | 7.0 | 7.0 |
The Final Word: Once one watches this film with an open mind and is able to tell what is fact and what are good directorial skills, this film is truly compelling. I would urge anyone of whatever political viewpoint to watch this film; if you can find fault in it, all the better for democracy and the principal of honesty and free speech that America prides itself on.