Hellboy
Comic book fans can sit back with a smile on their faces as yet another superhero makes the transition from the page to the big screen.
M o v i e D e t a i l s

Format
Theatre

Director
Guillermo del Toro

Distributor
Universal Pictures

Genre
Drama

Release
Out Now (US)
Sept. 3 (UK)
In the final years of the Second World War Hitler turns to the dark forces of the Occult in an attempt to thwart the Allied forces, in light of his actions President Roosevelt creates a department in the F.B.I. to combat the Nazi efforts. An American paranormal expert, Trevor 'Broom' Bruttenholm, leads an armed force to a Scottish island in a bid to stop an attempt to open a portal to Hell. Their efforts don't go unnoticed however and in the ensuing melee, a gateway to another realm is left open for a few precious minutes. Before the portal is destroyed a baby demon crosses over into our dimension and rather than killing him the Allied Forces adopt him, naming him Hellboy in the process. Bruttenholm raises Hellboy like his own son and the demon joins his father at the F.B.I. to battle the evil forces that threaten our existence.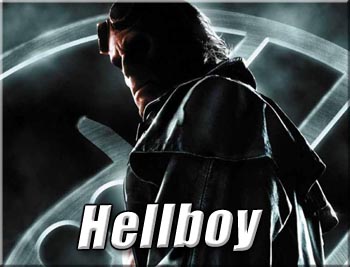 The genre is proving to be increasingly popular as box offices receipts can well attest. The Dark Horse comic series has gained such a cult following since its creation that Hellboy fans have been clamouring for a movie ever since. Now, thanks to Guillermo Del Toro and the make-up skills of Rick Baker, the demon has been brought to life and you'd better believe that there's going to be hell to pay!
The movie has also garnered a lot of attention due to Del Toro's decision to cast Ron Perlman in the lead role despite the fact that the studio bosses were pushing for a bigger name. Legend has it that when the series' creator, Mike Mignola, and Del Toro met to discuss the project, they both blurted out Perlman as their first choice for the role at the same time. It must have been fate because this is a role the actor was born for, he seized at the chance to give evil hell and now there's no looking back.
What makes Hellboy so appealing is the fact that, despite his appearance, he is very down to earth. While other superheroes prove to be too lofty at times this character is your average Joe, he enjoys sitting back with a six pack and smoking on a cigar. More importantly, instead of going off on moral rants, Hellboy remains grounded and more expressive than most of his human compatriots, the character's dialogue is terrific and he is far more accessible than his rivals. You may have seen Ron Perlman in bit parts in other movies but he's taken this chance to shine in the spotlight and instantly repays Del Toro's faith in him. Hellboy has all these interesting quirks to his character that make him even more likeable, he seems to be the perfect example for the phrase 'Never judge a book by its cover'. He may not be the best looking hero in town, but he's definitely the funniest! This demon always seems to have something to say and Perlman's delivery doesn't disappoint; one of the actor's favourite pastimes is doing stand-up and it shows as he has a tremendous sense of timing.
Despite the character's appeal this movie is still a bit light on the plot at times, Hellboy may be somewhat unique in superhero terms but the script is hardly as inspiring. Something just seems to be amiss as nothing is quite as spectacular as I imagined it to be, apart from Perlman nothing else seems to click with this movie. The film's other characters pail in comparison to the big, red demon; villains and good guys alike are a bunch of camp or overzealous performers which takes away from the film. For example, Abe Sapien is one of the most confused superheroes I have ever seen, emotionally crippled hardly seems like the nicest of phrases to use but it's definitely the right one. Before going to see Hellboy I heard it was meant to be possibly the best comic adaptation so far, but having seen it I can't say that I saw the film in the same light.
In comparison to some of the other more recent superhero offerings I'd say Spiderman 2 easily outshines it, while this may also be a highly polished movie it just doesn't seem to be as enticing. The fight scenes do not prove to be equally as imaginative as one might now be accustomed to, but more crucially the film's villains just don't get you riled up in the first place. The best way to explain myself is by going back to the camp reference I used earlier on in the paragraph, Hellboy is let down at times because there are points where it comes across like Adam West's Batman series rather than the modern equivalent. While it proves to be an enjoyable, special effects laden affair, Hellboy isn't as outstanding as some may purport.
The best thing to come out of this movie is Ron Perlman, for years he's had to make do with playing second fiddle to Hollywood's finest but now is his chance to step into the limelight. Even if nothing else goes right for him he's guaranteed at least one more stab at living the high-life as a sequel has already been commissioned and is scheduled for release some time in 2006. The role fits like a glove and Perlman excels in every area, you honestly can't help but love this character. Despite the fact that this is his first major starring role the pressure doesn't seem to have affected him at all, in fact he is more proficient than most of his peers in this movie.
There aren't any other big names in Hellboy either as Del Toro seems to have taken a more subdued approach at filling out this cast. Perhaps it was to ensure that Ron Perlman's position was not undermined, but either way none of the other actors do anything of note that would steal any of his thunder.
Selma Blair puts in a competent performance, if she isn't playing a haughty-taughty madam the actress' character seems to be depressed soul. In this instance her character Liz Sherman is the latter as she struggles to cope with her special powers and relating to the world around her. Everyone else seems to flounder about on screen as they seem to have realised that they have been caught somewhat out of their depth, it doesn't take away from Hellboy that much but it is far from inspiring confidence in the viewer.
It is said sometimes that an actor is born for a role and this is a perfect example, Del Toro and Mignola both showed tremendous confidence and foresight to cast Perlman for the part and it has paid off dividends. Unfortunately nobody else raises their game for this release: the rest of the cast are overzealous with their acting, the script is uninspiring and the special effects are nothing out of the ordinary. All the building blocks are in place but everything doesn't seem to click together, it looks like we'll have to wait until 2006 for the sequel to see if they can get it just right.
Piaras Kelly
Editor, Kikizo Movies
T H E S C O R E S
| | | | | |
| --- | --- | --- | --- | --- |
| Screenplay | Direction | Cinematics | Production | Overall |
| 6.2 | 7.1 | 6.9 | 7.4 | 6.9 |
The Final Word: Overall Hellboy was an enjoyable movie, unfortunately though it didn't live up to the hype. Having said that though, it is worth seeing this superhero flick for Ron Perlman's performance; he steps out into the spotlight and makes you wonder if he doesn't have any special powers of his own. While Hellboy may have saved the day in the end, regrettably the movie didn't prove to be as super as we all hoped it would.