I, Robot
Will Smith stars in a thriller inspired by Isaac Asimov's short story collection, but can he carry the concept into 2004?
M o v i e D e t a i l s

Format
Theatre

Director
Alex Proyas

Distributor
20th Century Fox

Genre
Sci-fi / Thriller

Release
Out Now
I, Robot is set in the year 2035 where robots exist all around us to aid us in our daily lives. Nearly every household in the world has a robot and they are completely integrated into daily life, whatever fear people may have of these machines is dispelled by the three laws. These three laws govern their functions and act as a safeguard to ensure that they may not inadvertently harm a human, but one man still remains suspicious of this new breed of technology. Meet Homicide Detective John Spooner (Will Smith) who seems to be the most technophobic man on the plant and is just itching to catch a robot committing a crime. So when Dr. Alfred Manning, the father of robotics, commits suicide and leaves a message for Spooner, the detective's suspicions are aroused and he sets about uncovering a conspiracy after a robot is implicated in the crime.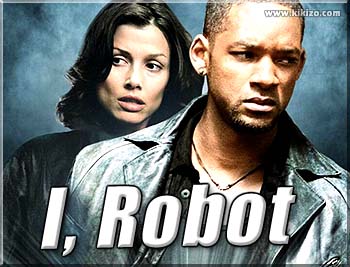 The film is loosely based on Isaac Asimov's novel I, Robot which is effectively an argument against man's fear of technology and epitomises his faith in reason. The script writers, Jeff Vinter and Akiva Goldsman, have taken a different viewpoint on Asimov's original vision by focusing more on the humanity of the piece thus emphasised by John Spooner's reluctance to trust robots. This underlying principle is expanded upon through Will Smith's character's recurring dreams and they gradually elaborate on why he seems to be the only person in the world that is resisting the technological advancements. Numerous techniques are used to promote this such as his love for old school Converse trainers and his constant urge to manually drive his car. In the initial stages the movie comes across as more of an update of Demolition Man, but there are lots of other subtle hints that can be spotted throughout the film such as the fact that Smith constantly keeps his eyes open in the shower. While the film may struggle at times with the overbearing influence of being looked at as an action movie, I, Robot's moral aspirations help set it apart as something different.
Before I went to see this movie I had heard an awful lot about the CGI involved, people were saying that it was possibly the best they had ever seen but I remained slightly dubious about their claims. The initial scenes did little to boost my confidence, I was sitting back saying 'That's fake. That's fake also. Hey, that doesn't look real either.' However suddenly I couldn't tell the computer generated images apart from real ones and I've got to hold my hands up to profess that this is simply one of the best looking movies ever. The reason why I think the CGI really succeeds is because of Sonny, the main robot in the film; his creation, much like a world brimming full of technology, is something to marvel at. At first his rather ordinary frame seems quite plain and they have simply imposed an opaque version of Alan Tudyk's face over his skull. The robot's simplicity is crucial to its success on screen, these basic building blocks create a living skeleton and endow it with the sort of movement which allows the CGI to be fully expressive. All the machines are able to fully interact with both the actors and the scenery around them in a realistic manner, thus creating some wonderful sequences to watch just like in Spiderman 2. It literally opens up a whole new dimension to work in and if this level of CGI is a sign of things to come then we've got a lot to look forward to in the years ahead.
While I, Robot is an enjoyable movie to watch, fans of Asmirov's novel may not be overly impressed; it is much more than your average action flick but the movie isn't the classic fans hoped that it would be. The film tries to be some sort of modern retelling of Frankenstein but the script isn't that engaging, it doesn't dwindle into Demolition Man territory but I, Robot is stuck somewhere in the middle. Everytime it focuses on the moral issues the movie seems to lose its pace and one has to be thankful for Smith's comedic presence which goes some way to fixing the punctured atmosphere. The original novel has quite a cult following but the script seems to have lost something in the translation because the same appeal doesn't carry over, maybe the story has aged with time but either way it is far from inspiring. It is the special effects and not the theme that ensures that I, Robot is a success; in that respect it is somewhat disappointing because Smith wanted it to be a sign of his more mature approach.
I, Robot is a pretty big movie for Will Smith because he has been off the boil of late and hasn't made the transition into serious acting as he would have hoped. Will this movie be the stepping stone in his quest to become the next Tom Hanks? Put simply, I doubt it. Maybe I'm being a bit harsh but in my opinion Smith should stick to what he's best at and that's making people laugh. I thought he was quite bland in Ali but was back at his entertaining best in Bad Boys 2, these are simple facts of life and Will Smith will eventually have to accept them. His best moments on screen in I, Robot are his witty comebacks, he had the audience in stitches as usual. It was obvious that he had put some psychological work into the project in preparation for becoming Detective Spooner, but it's hardly inspiring and I really wish that he would stop comparing himself to Hanks all the time. Smith has set himself a five year shelf life as an action movie star, but I hope he reconsiders because I don't see him winning an Oscar any time soon. It's quite strange to think that he had taken quite diverse roles as The Fresh Prince of Bel Air drew to an end but now has found himself typecast somewhat, here's hoping he can somehow turn back the hands of time but it seems to be too little too late.
The stand out star of I, Robot is Alan Tudyk who plays Sonny the robot, it might not be Gollum standard but he impresses all the same. Much like Andy Serkis, Tudyk hasn't had the best of luck with real life roles but has been more popular as a voice actor. Following on from his various parts in Ice Age he has stepped up to the blue screen again and brought another character to life, but this time with tremendous success. His combination of facial expressions and the tone of his voice have created a truly unique character; even the grace of his movement has to be appreciated. You really have to pinch yourself at times as a reminder that it is a real life person moving about! Bridget Moynahan also puts in a good performance and is quite reminiscent of Sandra Bullock in Demolition Man, her CV looks very impressive at the moment and hopefully we will see more of her over the course of the next twelve months. The rest of the cast contain some familiar faces like Chi McBride and James Cromwell, but the robots really do steal the show.
On the downside fans of Asimov's novel will probably be disappointed as Vinter and Goldsman's interpretation seems to drain some of its appeal. Smith has probably seen the error of his ways since he rejected the role of Neo in The Matrix, but this is a good stab at reclaiming some of that lost ground. As usual he is his entertaining self and is a pleasure to watch on screen, he may not be the thinking man's hero but he sure knows how to make him laugh. Set in 2035, if the technology on display is a sign of things to come then the future is bright for all of us. The special effects and CGI are a spectacle to behold; both are reason enough alone to pay the admission to watch this movie.
Piaras Kelly
Editor, Kikizo Movies
T H E S C O R E S
| | | | | |
| --- | --- | --- | --- | --- |
| Screenplay | Direction | Cinematics | Production | Overall |
| 7.1 | 5.9 | 8.8 | 8.6 | 7.6 |
The Final Word: I, Robot is definitely worth a watch because it's Will Smith best film for a few years and combines action, comedy and intellect to offer something for everyone. Simply put, I, Robot is one of the must see summer blockbusters - they've left it late but it's definitely worth a watch!