Layer Cake
The British gangster movie is back, but does it mean business? Our verdict.
M o v i e D e t a i l s

Format
Theatre

Director
Matthew Vaughn

Distributor
Columbia Pictures

Genre
Thriller

Release
Out Now
British gangster movies are common as muck these days. After the success of Lock, Stock and Two Smoking Barrels and Snatch it seemed like everyone wanted to be an East End wideboy. Unfortunately apart from Guy Ritchie's efforts most of the offerings were the biggest piles of garbage since Michael Jackson revealed his taste in home décor. While Ritchie's films retained the charm of the underground, other movies lost track of things and the actors involved looked like middle class schoolboys trying to be tough.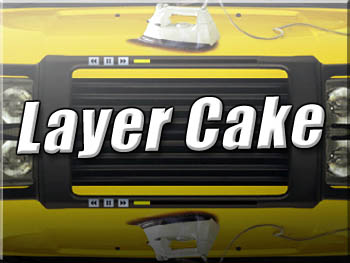 Much was made of the Snatch director's decision to cast real life bad-boys in his films, many believed that they added a degree of credibility and in retrospect it paid off trumps. Layer Cake is the latest gangster flick to emerge from the UK and the hype around it is slowly building because it comes from the same people who brought us Ritchie's efforts. However with a new director in charge and the decision to cast actors instead of gangsters, many people are asking whether Layer Cake will up to its predecessors.
You would be forgiven if you've never heard of Matthew Vaughan before. Layer Cake marks his directorial debut and his previous credits are for producing Snatch, Lock, Stock and... Mean Machine (Hey you can't always get it right!) In fact the only reason why most people would have heard of him before is because he is Claudia Schiffer's husband. Now it is time for Vaughan to move out of the shadow of his supermodel wife and Ritchie's legacy to make a name for himself.
Although I was slightly apprehensive before going to see this movie in light of the genre's recent failings, it turned out that Layer Cake was well worth the trip and marks a fantastic debut for Vaughn. Rather than making Snatch Vol. 2, the director goes for a clean break and there is a noticeable difference in style between Layer Cake and either of Ritchie's gangster films. He has done away with the comedic undercurrent and instead gone for a much grittier edge, showing a more realistic side of the criminal world.
Layer Cake follows Daniel Craig's character, an unnamed middle man in the drugs trade, as he tries to complete one last job before retiring. XXXX, the title given to the lead role, produces narcotics and delivers them to his boss; he knows his trade well and is well respected by his peers. Jimmy Price is in charge of the organisation and for some reason gives Craig's character a rather unusual job before letting him hang up his boots. XXXX is given the task of finding the daughter of one of Price's associates, but he finds himself well out of his depth given that he is used to dealing with beakers and scales instead solving of a missing person's case.
However it quickly becomes apparent that there is more to the job that meets the eye and unseen forces begin to swirl around the drug dealer like Hurricane Ivan. As the film gathers pace XXXX will be happy enough getting out alive, let alone retiring from the drugs trade. The movie's title refers to all the different levels in the criminal underworld and Craig's character must claw his way through every layer if he is going to get out in one piece.
For those going along to the cinema expecting another Snatch, you'd be better off staying at home. The structure of Layer Cake is quite different to Ritchie's efforts - Vaughan's movie revolves around one character and shows how he copes with the different situations he finds himself in, whereas Layer Cake's predecessors combine a load of different elements and put them together like a jigsaw puzzle in a frantic finish. This difference in pace highlights the contrast between each director's style and lets Vaughan's debut stand out in its own light. However the real factor that that makes Layer Cake a success is the mature approach to show the underbelly of crime in all its filth and sorrow. Let me put you straight - there are no geezers in this film, only villains. In fact any of the cheeky chappies that do take part are either bumbling idiots or way down in the pegging order. Layer Cake means business so you can forget about all your Mickey Mouse deals, only the real players are invited to take part so don't get caught out of your depth.
All of the violence in Ritchie's efforts was always romanticised - the viewer could smirk as Brick Top described how pigs can dispose of dead bodies or cheer as Vinny Jones lived up to his bad boy billing - but Layer Cake is made of much darker stuff. You may recall the iron from the film's promotional poster and wonder what it had to do with the movie; you'll curse your inquisitive mind when its role is revealed. The very notion of using an iron to cause harm to another human being is revolting enough, but I was left squirming in my seat at the script writer's horrible imagination.
However the instance which will leave no doubt in your mind as to the contrast between Vaughan and Ritchie's style is a scene from Layer Cake which bears an uncanny resemblance to Vinny Jones' moment of madness in Lock, Stock and Two Smoking Barrels. You may recall Jone's character stomping seven shades of faeces out of a criminal that threatened his child, even though the former Premiership thug's vicious streak was left exposed you couldn't help but cheer him on. Vaughan's version of this scene evokes a different reaction as XXXX's bodyguard almost beats the man responsible for his prison sentence to death. Instead of urging him on, I was almost begging him to stop!
Hopefully Layer Cake will make its way across the Atlantic as the English will be pleased to let the US audiences see a slicker side to London. Instead of Del Boy coats and sprawling side streets, Layer Cake showcases the metropolitan side of London. You won't find Ben Sherman in XXXX's wardrobe - if it's not from a designer label then he won't be wearing it. The film evokes class and any elements that don't fit in, like the Northern scally-wags, simply fall by the wayside. There is lots of money in the drugs trade and it shows as the gangsters enjoy private lunches at exclusive country clubs. All the film's characters are cut from a different cloth also; ignoring their wardrobe, their women are also from a different planet. Siena Miller is better known as Jude Law's other half and hands up to Jude for landing himself a right cracker. Miller gets the tongues wagging as she shows off her talents in a London nightclub and then gets the viewer's heart beating at ninety miles a minute when she seduces XXXX later on in the film.
There aren't many familiar faces in Layer Cake but it uncovers some rough diamonds much like its predecessors. Daniel Craig is simply superb; he plays the cool, calm and sophisticated character down to a tee. The world is now exposed to a new breed of gangster; XXXX is an intelligent and sophisticated individual who could be easily mistaken for a stockbroker or a doctor. The main character isn't some thug who has worked his way up the ladder, in all probability he is university educated! Craig gets it spot on and the fact is emphasised as he struggles to cope when he gradually fully submerges into a life of crime.
Colm Meaney is from the other end of the spectrum of the criminal world and is something of a relic having out in his time over the years. The Irishman was excellent in the Indy hit Intermission and his performance in Layer Cake really does show that Hollywood should pay more attention at times. Meaney is a superb villain and revels when he has to show off his sadistic nature, he must have done something really bad in a former life because he is right at home playing a bad guy. Despite having already mentioned Siena Miller, it is worth pointing out that we'll probably being seeing a lot more of her in the future. She might not have had much to do in Layer Cake, but she does have a rather alluring screen presence and it would be no surprise if she popped up in a Bond flick.
Matthew Vaughan has done away with all of the wisecracks and tomfoolery, showing a more realistic and darker side to the criminal underworld. There are no heroes in Layer Cake, only a bunch of villains and it becomes a case of rooting for the guy who has the least to regret. It is a stylish and tense affair for all the right reasons and despite some of the good work being undone by a throwaway ending, Layer Cake is well worth the watch. Vaughan deserves special mention for a fantastic debut, although it isn't quite as memorable as Ritchie's crime capers, I eagerly await his next offering.
Piaras Kelly
Editor, Kikizo Movies
T H E S C O R E S
| | | | | |
| --- | --- | --- | --- | --- |
| Screenplay | Direction | Cinematics | Production | Overall |
| 8.1 | 8.4 | 8.3 | 8.4 | 8.3 |
The Final Word: The British gangster genre is back with a bang and Layer Cake means business. Daniel Craig has been around for a while but has never seemed to make much of an impact, Layer Cake should mark a change and he will be far more successful than Jason Stratham. Be sure to catch this movie in the cinema, you'll be sure to enjoy every last crumb of Layer Cake.