Spider-Man 2
As Kikizo posts the first UK review of Spider-Man's showdown with Doc Ock, a line is forming for the first UK screening. Spider-Man 2 is here!
M o v i e D e t a i l s

Format
Theatre

Director
Sam Raimi

Distributor
Columbia Pictures

Genre
Action

Release
Jun 30 (us)
Jul 15 (uk)
If the Comic Book was a cert for 'twenty-first century special-effects blockbuster' adaptation, then there was something depressingly inevitable about the release of a sequel to Spidey's somewhat disappointing 2002 release. Now I have to admit that these reservations played on my (non-spidey) senses before I entered the cinema. To be honest, I've never been the greatest of Spider-Man fans - he's kinda like Batman's annoying kid cousin nagging to play with the big boys. I always thought he was the 'nerds' hero' (hence his popularity), battling to prove how the school geek could rise above it all and prove he had the qualities that nerds claim is not important to them.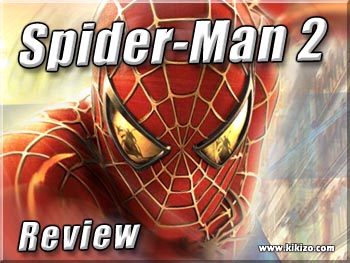 In all fairness, there's nothing wrong with this - that is until Peter Parker burst onto the big screen with all the swagger of the school bully himself. Clark Kent was the geek played by superman to seem unremarkable, whereas Parker/Spider-Man the character is traditionally just unremarkable. Anyway, the original did little to suppress this hostility to the character and with the traditional lack of strong 'arch-villain' characters in the Marvel Comic Book transferring to the big-screen, all that was left was the admittedly breathtaking special effects. And Kursten Dunst's Wet T-Shirt scene.
But here we are. Can a sequel add anything new to the aura of Spider-Man for a cynic like me? Well, yes - much to my surprise - simply put, Spider-Man 2 is totally, irritatingly enjoyable. Having committed himself to the life of 'superheroism' and courageously suppressed his romantic designs on the inexplicably eager Mary-Jane (Dunst) at the end of Spidey I, we see what the character was originally meant to be. Gone is the cocky bravado and Spider-Man is once again the virtuous superhuman geek that nature (or more accurately, a radioactive arachnid) intended.
In Dr. Otto Octavius (Alfred Molina), we have a much stronger villain than Willem Dafoe's Green Goblin - he has his own mythology and pseudo-worthy cause which is augmented by the sense of pride injected into the character by Molina. Obviously what hasn't changed is the popular Spider-Man (Maguire); yet with some added touches of humour and swift set pieces in Spider-Man 2, Tobey seems far more comfortable in terms of mannerisms and on-screen presentation. Maguire really steals the show.
As a renowned scientist developing a new form of energy (which deliberately tugs at the strings of virtue in our 'global-warming aware' age), Octavius suffers a freak lab accident. While holding the energy source with large tentacle-like 'robot arms', an explosion fuses him together with the equipment creating the insane (and the admittedly frightening) Doc Ock. In his manic desperation to finish his project, he first tries robbing banks before turning to Harry Osborn (James Franco, somewhat unconvincingly cast as the more 'evil' of the villains). Osborn, blaming Spider-Man for his father's death, agrees to funding Doc Ock so long as he brings him the hero's body. We're left with a menacing confrontation which works superbly.
It ties in well with the parallel plot of Parker's personal problems: college, financial and family. His sense of anguish, including his on-going feelings for Mary-Jane, culminates in temporary loss of his powers. It is in this environment that we see the further development of McGuire's character. The conflicting character of Mary-Jane, confused by her feelings for Parker, is powerfully played by Dunst. She is not a straight forward heroine and the audience will often wonder about her decisions, but her function of Parker's main (but not exclusive) source of angst come across well. The animation sequences and special effects are unsurprisingly incredible, but to dwell on these would really cloud the extent to which this film surpasses the original in other departments; it's much tighter and more gripping, all round.
We do see the cornier moments associated with any 'oh-so-good' superhero still ponging the theatre out from time to time. I'm still not Spider-Man's greatest fan - I like my superheroes to have a dark side and something of the unpredictable about them. But this sequel is a vast improvement on the original as a film and also as an adaptation of the comic books. And whether you're a fan or not, this is as good as any movie you're likely to see this summer - in fact it's essential.
John Gold
Film Critic, Kikizo Movies
T H E S C O R E S
| | | | | |
| --- | --- | --- | --- | --- |
| Screenplay | Direction | Cinematics | Production | Overall |
| 9.3 | 9.2 | 9.2 | 9.4 | 9.2 |
The Final Word: Undoubtedly the must-see movie of the summer. Bring on Spider-Man 3 - after all, Spider-Man now seems it will will work better as a film series, with the central hero allowed to develop as the villains (who are never meant to eclipse the hero) come and go. This is what worked with the Comic Books - and could work with future sequels.