The Stepford Wives
Frank Oz's directs Nicole Kidman in a remale of a 1975 drama. Should you care?
M o v i e D e t a i l s

Format
Theatre

Director
Frank Oz

Distributor
Paramount Pictures

Genre
Comedy / Drama

Release
Out Now
Have you ever dreamed of finding the perfect partner? Someone who will cater for your every request, encourage you when you are feeling down and fulfil your ever desire? Then maybe you should move to Stepford, Connecticut where dreams really do come true! The Eberhart clan migrate to Stepford because Joanna Eberhart (Nicole Kidman) has had a nervous breakdown after losing her job because of a disastrous reality television show promo. Her husband Walter (Matthew Broderick) decides to up sticks and move his family out of Manhattan in a bid to give his children a better leash of life and to rescue his marriage.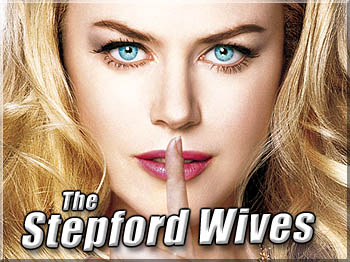 The dainty town of Stepford exceeds all of their wildest expectations and their new life is like something straight out of a storybook. While the rest of her family is taken in hook, line and sinker, Joanna is apprehensive about her new surroundings but Walter dispels her fears by blaming her qualms on her neurotic personality. Kidman's character decides to adapt to her new lifestyle to save her marriage and also in the hope that she will be able to lead a better life.
The Stepford Wives' opening credits give an indication of what to expect from the movie. The montage is like a sixties' lifestyle roadshow of what we could hope for in the future, the images promise modern technology which will make our lives easier and as a result we would be happier with ourselves. In the present day we have sadly realised that our earlier enthusiasm has not been matched by technological advancement, but the Eberhart family are shocked after walking into what appears to be the perfect life. Walter Ebehart's first impression of Stepford seems to be straight out of a fantasy; all the men's wives are beautiful, they all seem to be enjoying great sex and they cater for their husband's every whim. While everyone seems to be enjoying themselves in their perfect surroundings, Joanna begins to wonder if everything is as it seems. After befriending two like minded townsfolk, Bobbie Markowitz (Bette Midler) and Roger Bannister (Roger Bart), their suspicions are aroused after a series of events.
The first fifty minutes of this film are incredibly quick witted, the influence of the original 1975 movie works in its favour and its unassuming, simplistic nature is quite appealing. The dry humour involved is top notch and goes some way at driving home the age old message of never judging a book by its cover. However after an incredibly disappointing second half you'll struggle to remember what exactly you found so funny in the first place, the contrast is absolutely incredible it's almost like watching two different movies. The reason why The Stepford Wives loses track of itself is because Bette Midler and Roger Bart's characters are taken away from the limelight and Kidman and Brodrick struggle to carry the movie. Midler and Bart keep the film's sarcastic tone in check and bring its moral overtures back to reality. Their outlandish comments highlight the ridiculous of the situation and in the process do a much better job of driving home the film's message than resorting to a completely unoriginal finish.
While the original movie's effect on The Stepford Wives works well in the beginning, it eventually becomes an overbearing influence and chips away at all the good work in the later stages. The updated version's simple approach goes from being quite endearing to turning into something completely na´ve and The Stepford Wives ends up being a throwback to another age. When you look at the 1975 movie's exploration of feminism it would be impossible not to take the atmosphere of the era into consideration, the film highlighted the Neanderthal thinking of men at the time. The remake's stands in complete contrast to this as it comes across as a film written by a woman who is out of touch with modern masculine thinking. Every man in Stepford is a geek who is intimidated by dominant female and the movie completely ignores the attractiveness of the modern, successful woman. The most sought after beauties of today are those who do things their way; they use their appeal to get what they want, rather than trying to get the best man that is on offer and simply settle down. Despite being a remake The Stepford Wives simply fails to change with the times and it ultimately flunks because the movie is outdated.
Despite being a letdown, The Stepford Wives is worth seeing because of the performances of some of the stars involved. I thought I would never watch another Bette Midler movie after seeing Hocus Pocus but now everything has changed; as Bobbi Markowitz, Midler transforms into a quick witted firecracker with a thousand putdowns. Her usual snappy interchanges are now full of zest and vigour where a stale, repeated formulaic approach to acting once existed. It seems like the town of Stepford has worked wonders for her also and if this movie is anything to go by, then this may by the first part of the actress' renaissance. Even though I have already pointed out Roger Bart for praise, words aren't enough to describe his performance. He literally had me in stitches; there were points in this movie where I had to cover my mouth to stop laughing because people were starting to look at me as though I were a hyena. Hollywood legends Glenn Close and Christopher Walken were as impressive as usual, despite being in the twilight of their careers both actors showed that those aspiring to take their place better step up a notch. Just to point out how impressed I was with the director's ability to the best out of the majority of the cast, I have to highlight Jon Lovitz's performance. Normally I find him to have a completely nauseating screen presence but even I have to admit that he was funny in this movie; his retort to his onscreen wife, Bette Midler, in one scene truly is the best gag in The Stepford Wives.
When you consider how good the supporting cast are, one must wonder how Matthew Broderick and Nicole Kidman struggle in their roles. Kidman is an Oscar winner and one of Hollywood's leading ladies, but she simply can't carry The Stepford Wives when Midler and Bart's support dissipates. The strength of her character is undeniable but she just charges headfirst without any clear direction and Kidman ends up as exhausted as Joanna after the opening scene. It is almost quite worrying to watch her flounder like a tiring beast in a bullfight, at this stage of her career Kidman's presence should be enough to make a movie but she just comes across as distant. However I must reserve most of my contempt for Matthew Broderick, how he has managed to ebb out a career playing the same character for so long is beyond me. All he has to do is play a weak minded man who is tempted by Stepford's alluring appeal, but Broderick just comes across as a full frontal lobotomy patient. His boyish charm can't save him here and in my opinion the only films you'll be seeing him in the future are inane comedies that rely on goofball antics rather than anything based on thought. Broderick had better hope that the Hollywood adaptation of The Producers is as successful as its Broadway run otherwise he's going to be the burned out star looking to escape to Stepford.
If The Stepford Wives proves anything, it shows that a great cast doesn't guarantee a good film. While some may blame the tension backstage for its poor showing, the reason for its failure lies much deeper for me. The script simply hasn't been updated for the times that we live in and while the director, Frank Oz, has done a good job of eliciting stellar performances out of the supporting cast, he hasn't been able to patch up the script inconsistencies or make sense of an outdated story. Oz's last film was The Score, which was rather underwhelming despite starring three of Hollywood's greatest actors: Marlon Brando, Robert De Niro and Edward Norton. The Stepford Wives seems to follow on from this, despite featuring one of the world's best actresses, Nicole Kidman, all her skill and glamour fails to rub off on the movie and it ends up as a mish-mash affair. It is such a shame as the movie starts off quite promising, a far cry from most of the bad reports it has been receiving, but The Stepford Wives closes like a headless chicken flopping around the screen and becomes much ado about nothing.
Piaras Kelly
Editor, Kikizo Movies
T H E S C O R E S
| | | | | |
| --- | --- | --- | --- | --- |
| Screenplay | Direction | Cinematics | Production | Overall |
| 7.8 | 6.7 | 6.7 | 8.2 | 6.8 |
The Final Word: Rather than heading out for an evening at the cinema, this movie would be better enjoyed as a DVD rental because if it really starts to get under your skin you can simply turn it off than suffer through it. Overall The Stepford Wives is a disappointing effort despite its strong cast, halfway through you'll end up wishing you were a robot so you could switch yourself off.