Terminator 3: Rise of the Machines
After years of waiting, John Connor faces his biggest challenge yet against the deadly new T-X. Was it worth the wait? Read our full review. You might be pleasantly surprised...
M o v i e D e t a i l s

Format
Theatre

Director
Jonathan
Mostow

Distributor
Warner (us)
Sony (uk)

Genre
Sci-Fi
Action

Release
July 2 (us)
Aug 1 (uk)
Nearly twenty years ago, Jim Cameron's Terminator movie became an instant classic and one of the most adored science fiction horror movies of all time. In 1991, Terminator 2: Judgement Day proved that there was plenty of room for expansion, developing the story and keeping fans happy with groundbreaking visual effects - Terminator became the most iconic movie franchise in Hollywood.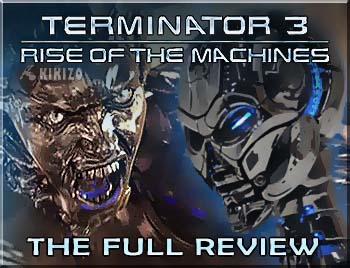 "T3 offers a genuinely new, original chapter to the Terminator universe, with some pleasant surprises."


Now, the feverishly anticipated third film, Rise of the Machines, is here - with only Arnold Schwarzenegger and the film's executive producers, Mario Kassar and Andrew Vajna, returning for the occasion. Since the project got off the ground, critics had slammed the prospect of a third Terminator movie without the return of director Cameron or other key members of the original cast - particularly Linda Hamilton and Edward Furlong.

And believe me - I, like many other big fans of the Terminator movies, desperately wanted the third film to be good. Many of us have waited so long for T3, and would have been devastated if the film didn't live up to expectations and got slated by critics, and worse, the series' own fans.

Well, I'll cut to the chase now - I'm thrilled to say, Terminator 3 is an absolutely great movie. And in case it's just the fanboy in me talking, I'll also say that I've not heard one bad opinion on the overall film from anyone I know who's seen it at the film's many recent screenings. Even the project's naysayers - those who insisted it just wouldn't work, have been forced in no uncertain terms to eat their words and praise Rise of the Machines. Including, ahem, other staff and contributors here at Kikizo.

Since John Connor (Nick Stahl) helped prevent Judgment Day, he has been living with no record of his existence to avoid being tracked by Skynet. Enter the T-X (Kristanna Loken), Skynet's most sophisticated cyborg killing machine yet. Sent back through time to complete the job left unfinished by her predecessor, the T-1000, this machine is as relentless as her human guise is beautiful. Now Connor's only hope for survival is the Terminator (Schwarzenegger), with which he must triumph over the technologically superior T-X and forestall the looming threat of Judgment Day, or face the apocalypse and the fall of civilization as we know it.

"Stahl does an excellent job - we quickly accept that Connor merely got a haircut and some sunshine."



The story seems basic and recycled on the surface - but thanks to admirable security surrounding the T3's story, it's not so obvious that this was fully intentional. Terminator 3 offers a whole lot of story - and the great thing is that it's all contextually correct and respectful to the first two films. T3 offers a genuinely new, original chapter to the Terminator universe, with some surprising plot twists and revelations that fans might not be expecting - and we're not just referring to the now well-publicised fact that Arnie 'turns' on Connor in some way during the film.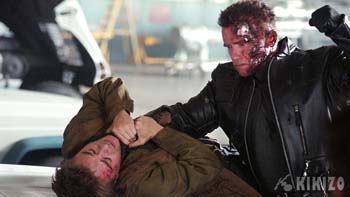 Nick Stahl's performance as John Connor is strong. A reformed, but still cautious young man who detaches himself from the real world, Connor lives and behaves pretty much as you'd expect for somebody who's been through such traumatic events. Stahl's act as Connor is very believable and a solid start to the film, which kicks off with his narration. From the point of continuum it would have been nice if Furlong returned for the role of Connor, but really it doesn't matter since Stahl does an excellent job, and we quickly accept that John Connor merely got a haircut and some sunshine.
Claire Danes plays a role best described loosely as Connor's 'love interest', Kate Brewster, and delivers an equally impressive performance. Far from being an 'add-on' character for nothing more than a subplot, Kate is actually fundamental to the story in Terminator 3. Near the beginning of the film, Connor and Kate meet in dubious circumstances, before things explode in a frenzy of plot-driven action.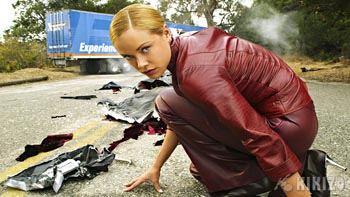 "The T-X is one kick-ass machine, and frankly she can kick mine any time she wants."


Kristanna Loken's performance as the new T-X was similar to Robert Patrick's as the T-1000 - suitably cold, dead scary and remarkably convincing. The T-X however, does have some assets to her advantage that T2's comparatively feeble bad guy didn't, and she's not remotely afraid to use them. The more astute among you will no doubt realise we're not just talking about her awesome morphing abilities or her ability to manipulate other computer machinery. The T-X is one kick-ass machine, and frankly she can kick mine any time she wants. She doesn't talk an awful lot in the film - but what she does say is effective and the rest of her act - the way you see her thinking, processing and taking care of business - is a great contribution to the film.

Of course, the role we all wanted to be up to scratch the most is Arnold as the Terminator - and he does not disappoint. Everyone in the world knows that the Terminator is Arnold's best character - and he's on top form in T3. Physically, he looks stunning for any age, never mind fifty. Depicting the classic T-101, when he's mean he's mean, and when the script allows, tremendously funny in the classic T2 'learning personality' style.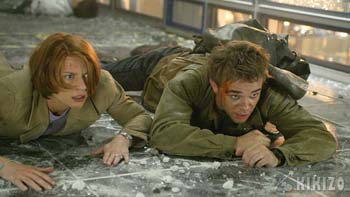 "The pace of the film is right, and you couldn't really ask for a better combination of action and story."


There's also the return of another character from the first two films - we won't say who because it's another amusing moment when he hits the scene - that's also well executed and another wink and nod to Terminator's fans.

The pace of the film is right, and you couldn't really ask for a better combination of action and storytelling from any film. The action scenes are edge-of-your-seat stuff, and highly entertaining. Of particular note is the freeway 'car chase' scene where the T-X commands a huge truck and a host of other vehicles remotely, and the obligatory fight between Arnie and the T-X - both of which were breathtaking action moments. You really get a sense of full-power robots (ahem - cybernetic organisms) of immeasurable strength going at it here - in comparison, T2's action scenes make the machines look fairly sedate. Your jaw will be on the floor and you'll laugh with joy, as surroundings get smashed snatchless in the most justified budget-spunking we've seen in a long time.

"Your jaw will be on the floor as things explode in the most justified budget-spunking we've seen in a long time."



Fans expect high quality action, and they'll get it exactly as they want in T3. But what should really please fans and critics alike, is that it's not overdone, like it is quite ridiculously in The Matrix Reloaded for example. This really is entertaining stuff.

The excitement I felt when the film kicked off - that I was finally watching admittedly my most anticipated film sequel ever - rarely had time to surface again, as the action moves at breakneck speed and the non-action keeps you totally gripped too. I feared that my fanboy excitement at the enormity of watching Terminator 3 might overshadow my enjoyment of the film throughout - but actually I only recall a couple of short moments when I had the chance to remember that excitement.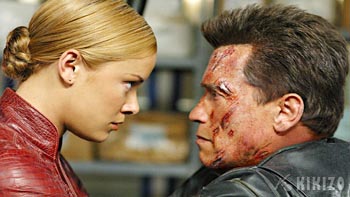 The visual effects are not as breathtaking as T2's were back in 1991 (and for some time after) - mainly because the innovative use of CGI is now both more commonplace and much more competitive. But don't be misled, returning Stan Winston and his assembled team of effects geniuses at ILM have put together some very impressive effects. The aforementioned fight scenes and massive destruction of environments - both claustrophobic and open-space - must have required meticulous and precise effects work - I mean, it's easy forget that this level of devastation caused by two powerful cyborgs is not real!
"The humour ranges from subtle to hilarious - it's the icing on the cake and another tick on Mostow's long list of T3 credits."


Of course, Stan had to better the new-generation terminator effects he pioneered in T2, and unsurprisingly, he doesn't disappoint. The T-X does get naked (on a cybernetic organism scale), and her sleek endoskeleton goes through all manner of mash-up - resulting in some serious spewing of CGI talent.

The quality of the script is exemplary for a film of this nature, and a credit to the storytelling that makes T3 an enjoyable and successful sequel. The dialogue is clean and succinct, almost noticeably written with the actor in mind. Meanwhile, there's plenty of room for a handful of funny moments - developed naturally from the humour in T2 - some moments are subtly amusing, and others intentionally hilarious. The humour - although a very delicate beast in an otherwise serious film like T3 - is the icing on the cake in this sequel and another tick on the long list of Mostow's credits with this project. There were very few cheesy lines in the film, and really one of them was only there because it had to be (hint - it was in the first trailer).

From the beginning of the project, Jonathan Mostow has stated that he's a huge fan of the Terminator films and that he respects the franchise, and with T3 he's proven it with a sequel that fits perfectly with T1 and T2, and worthy of much applause in its own right, but with a tonne of original elements to make it his own. There are some excellent ideas and neat touches in T3 that just feel so right. And of course, there are a number of moments that pay obvious homage to the first films, even on a very subtle level, that fans will really admire.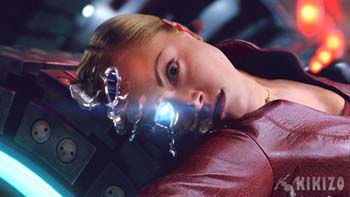 "The intense, evolving story keeps you just as gripped as the breakneck action"


Frankly it would have been so easy to mess this film up, which is why T3 received a kicking ever since its inception. Even the trailers (the first trailer more so than the subsequent ones) made the film look like it might be a bit crap. But to be just as frank, everyone was completely wrong, and Jonathan Mostow has proven he's top-notch. Everything about Terminator 3 is right - the script, the acting and the pace of the film are all solid, while the intense, evolving story keeps you just as gripped as the breakneck action - making a technically very strong, and above all, very entertaining film. I can't speak for non-fans, but I think those who've somehow missed the first films will also enjoy T3 because it's original, fresh and unique enough to exist by itself. But the real success of T3 is that while not as groundbreaking as either of the first two films, it does live up to them and do complete justice to the legendary franchise, guaranteeing fans a film they'll love.

And more great news is that, if T3's ending is any indicator (not to mention the recent rumblings of the cast, and the obvious strategy of Vajna and Kassar who created C-2 pictures especially for the future of the Terminator business), there will definitely be a Terminator 4. While it's more than our jobs are worth to tell you anything about how T3 ends before you've see it, we will say that a lot of thought has gone into the ending, which is both satisfying and provoking, without ridiculous overkill.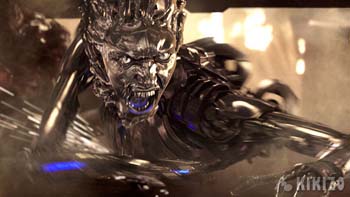 "Fans might even find Terminator 3 more entertaining than James Cameron's last Terminator movie."


Terminator 3, whilst highly enjoyable, is obviously a different kind of movie to the original movies, just as T1 and T2 were different to each other. For that matter, T4 is likely to be considerably different also. But while there will inevitably be fans of the opinion that no sequel (including T2) will ever live up to the horrorfest of the original film, those who loved T2 will be most pleasantly surprised with Rise of the Machines, and they might even find it more entertaining than James Cameron's last Terminator movie.

Adam Doree
Editorial Director, Kikizo

T H E S C O R E S
| | | | | |
| --- | --- | --- | --- | --- |
| Screenplay | Direction | Cinematics | Production | Overall |
| 8.5 | 9.6 | 9.2 | 8.8 | 9.2 |
The Final Word: Terminator 3 really is what fans have been waiting, hoping and praying for. Gone are the rumours and fears that this would go down as the most cocked-up sequel of all time, replaced with a triumphant Mostow who has succeeded in the impossible task of making T3 a solid, fresh, entertaining film, and a credit to the original movies that fans will enjoy. It really is that great - and you should not hesitate in going to see it the very instant it opens on July 2 (US) and August 1 (UK).