Two Weeks Notice
We wanted Two Weeks Notice it to be a typical romantic comedy, starring those two lovable people, Sandra Bullock and Hugh Grant - but how did it turn out? Our opinion inside.
M o v i e D e t a i l s

Format
Theatre

Director
Marc Lawrence (debut)

Distributor
Warner Bros

Genre
Romantic comedy

Release
Out Now
Bullock and Grant make their jobs look effortless, which means they tend to be underrated as actors. Then again, their breezy professionalism can get you through a fairly formulaic film like this one without you being constantly aware of its weaker points.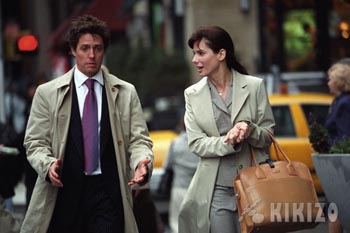 Sandra Bullock plays the good-hearted and idealistic Lucy Kelson, a Harvard trained lawyer, devoted to hopeless good causes. Our first sight of her finds her straddling a wrecking ball in a futile attempt to prevent the destruction of an historic building. Her next crusade is to save the Coney Island Community Center, which the Trump-like Wade Corp. has targeted for demolition and new condos.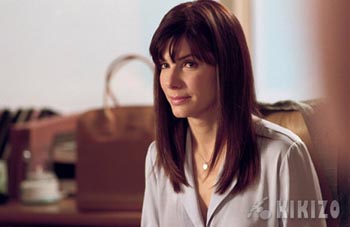 Hugh Grant plays the superficial and egotistical George Wade, a charming but self absorbed billionaire property developer, who fronts his namesake company, though his shadowy brother, Howard, (David Haig, Grant's co-star from Four Weddings and a Funeral)) really calls the shots.
So, she devotes her life to liberal causes, such as saving the environment and preserving landmarks and he devotes his life to despoiling the environment and tearing down landmarks. They disagree about politics and everything else, so of course the obvious thing to do is work together... isn't it?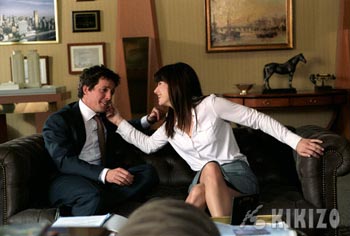 George needs a new chief counsel and, after Lucy makes an impassioned plea to him on behalf of the community center - and mentions her Harvard credentials, he impulsively offers her the job.
She accepts, thinking that she may be able to more successfully effect change from inside the system. Time then whizzes by as we see George coming to rely totally on Lucy, until he can't make a move without her. She ends up doing everything for him, from picking out ties, to buying the right mattress.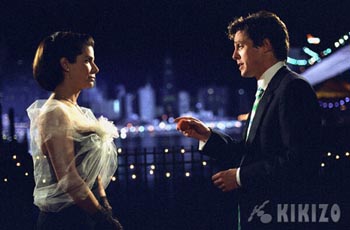 Finding that her job involves too little litigation and too much catering to George's whims, Lucy decides to quit and go back to pro bono work. Leaving George just two weeks to realize he's in love with her and persuade her to stay.
The set-up is promising enough, but Grant's character isn't really enough of a stinker to make him interesting. He's not even a proper heartless developer - he has to be made heartless by his bottom-line oriented brother. He seems to occupy a space somewhere between the stammerers of Grant's earlier romantic comedies and the confident cads of Bridget Jones's Diary and About a Boy.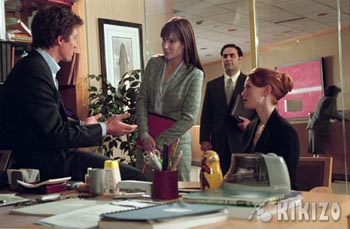 Bullock might well have played the cute and quirky, lovelorn loner type once too often, but she does do it very well. She never minds looking unglamorous or making a fool of herself and is always watchable.
Although we know what the outcome will be, we still want to see them work at it, but there are not enough funny obstacles - the key to any good romantic comedy - in their way. Even "the other woman" Lucy's office replacement, June (Alicia Witt) turns out to be too nice to have any real edge.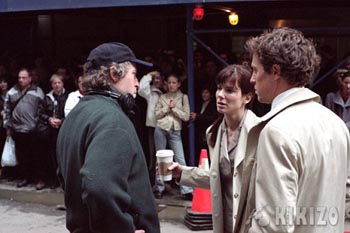 Grant and Bullock play well off one another - like they speak the same comedy language - and have an easy, flirtatious rapport. They're certainly a more natural pairing than Jennifer Lopez and Ralph Fiennes in Maid in Manhattan.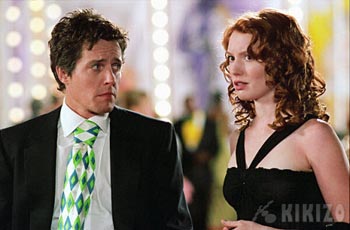 Some of the dialogue has real zing to it, with a lot of the best one-liners going to Grant, who skilfully and assuredly delivers such lines as, (when George meets Lucy's left-wing activist mother) "I thought she was going to cut me up and feed me to the poor". Bullock has fewer jokes, so has to indulge in slapstick of the tripping-and-falling variety, which she's pretty good at, of course, but there's a danger of overusing such tactics.
John Gold
Film critic, Kikizo Movies
T H E S C O R E S
| | | | | |
| --- | --- | --- | --- | --- |
| Screenplay | Direction | Cinematics | Production | Overall |
| 8.5 | 7.5 | 7.5 | 8.5 | 8.5 |
The Final Word: Despite certain weaknesses, I liked the movie: both stars turn in winning performances and, if we accept that romantic comedies are the comfort food of the movies, then it does exactly what it sets out to do - in a reliably upbeat fashion.