8 Mile
Eminem's semi-autobiographical big-screen debut arrives on DVD with some excellent extras. Here's our full review.
M o v i e D e t a i l s

Format
DVD

Director
Curtis Hanson

Distributor
Universal

Genre
Drama

Release
Out Now (US)
May 26 (UK)
Hip-hop is invading the world of cinema and it won't be denied. DMX has seen success in such films as Exit Wounds and Cradle 2 The Grave. Queen Latifah received a well-deserved Oscar nomination for her role in Chicago and also starred in the wonderful Set It Off and the current hit Bringing Down The House to name a few. Now, Eminem has made his film debut in the semi autobiographical drama 8 Mile.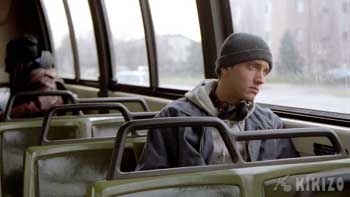 Eminem plays Jimmy Smith a.k.a. B-Rabbit (Bunny Rabbit), an aspiring rapper from the Detroit ghetto. Two things set him apart from the rest: He actually has talent and he's white. Rabbit's first step is to win the big rap battle that's hosted every week by his best friend Future (Mekhi Phifer). However, it won't be easy.
Rabbit lacks the required confidence to battle in front of the crowd, his mother (Kim Basinger) always brings him down, he's trying to connect with Alex (Brittany Murphy), and the current rap champion will stop at nothing to make his life hell. Will Rabbit overcome these obstacles and triumph at the next rap battle?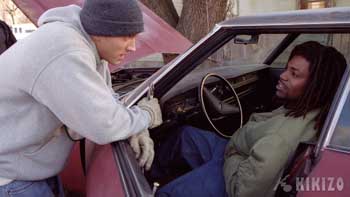 After Eminem's tremendous success in the rap world, a leap to film was the next logical step and 8 Mile is the perfect vehicle for him. Although he is essentially playing himself, Eminem's acting debut isn't that bad. Throughout the film he sporadically lacks the emotion to get his point across except when he expresses anger or hatred (big surprise there), but overall he does a good job, an impressive debut.
Knowing that Eminem was still green when it comes to acting, the filmmakers surrounded him with a stellar cast led by Mekhi Phifer. Upon seeing him, my first thought was "Look, there's Dr. Pratt." but his ER character quickly left my mind within the first 5 minutes. He steals every scene he's in and breathes so much life into this film that I can't imagine it without him.
The rest of the cast is good as well. Brittany Murphy is well cast as Rabbit's love interest (sort of). The role called for her to be pretty, but in a dirty sort of way and she pulls it off. Kim Basinger got a lot of flak for her role in this film and I think that criticism is unjustified. While it's true that she doesn't shine here, I think the biggest problem lies in the character not in the actress. Through listening to Eminem's lyrics, we've all had a vision of who his mother is, so when his movie mom wasn't as bad as the songs suggest the blame went to Basinger. She played the part that was written and people need to realize that the role is B-Rabbit's mother, not Eminem's mother.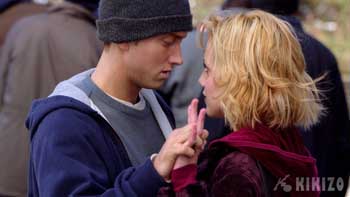 Director Curtis Hanson brings a lot to this film. He takes a fairly typical movie about an underdog overcoming the odds and decorates it in some very nice packaging. He adds style and substance to each and every shot. This movie is very well done.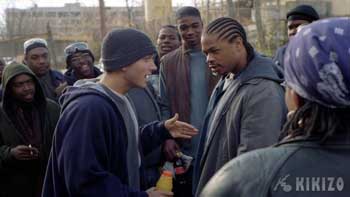 Count 'em, 4 versions of this movie were released on DVD: two with censored extras (pan and scan or widescreen) and two with uncensored extras (also pan and scan and widescreen). I can understand separate pan and scan (evil!) and widescreen editions, but why offer censored extras when the movie is rated R to begin with? I checked out the uncensored widescreen edition, the only way to go.
First up is "The Making of 8 Mile". This 10-minute featurette shows little behind the scenes footage, but is comprised mostly of interviews with Eminem. The rest is basically a long commercial for the film, but Eminem lets us in on his feelings on hip-hop and what it means to him so it's definitely worth a look.
Next up we have the best extra on the DVD, the "Exclusive Rap Battles". These are very cool. It seems the filmmakers held a contest for the extras for the rap battle scenes to win a chance to battle it out freestyle with Eminem. This featurette of sorts takes us through the competition as the top 4 are chosen to battle with Eminem. Sitting down and writing lyrics over a period of time is one thing, but seeing Eminem and the amateurs rapping freestyle and unscripted is phenomenal.
There's also a section called "The Music of 8 Mile", which is simply a menu or two of the soundtrack that takes you to the exact scene in which the chosen song is played. Why would anyone want to do that? I haven't the foggiest. We're also treated to Eminem's "Superman" music video, some production notes (which are actually worth a read), and the cast and crew filmographies.
I can't help but be disappointed with this DVD. With a movie that earned over $100 million domestically I expected at least an audio commentary or some real behind the scenes footage. This discs saving grace is the rap battles featurette, the only true DVD extra this disc has to offer. It alone is probably enough, but I was expecting more.
Overall, I enjoyed 8 Mile. It certainly lacks the drama of other similar movies, but that adds realism. It feels more like a look at an important week in the life of B-Rabbit. Normally, that's a bad feel for a movie, but here it's refreshing and I found myself wondering what happens to these characters after the credits role.
The film is an impressive debut by Eminem and, while he didn't exactly exhibit Oscar worthy acting, his performance did earn him an Academy Award for Best Song (which I thought was well deserved). The rapper must feel on top of the world right now, but he's still going higher with no hint of slowing down any time soon. I'm sure we'll be seeing Eminem on screen again real soon.
Ryan "Rip" Berg
DVD Reviewer, Kikizo Movies
T H E S C O R E S
| | | | | | |
| --- | --- | --- | --- | --- | --- |
| Screenplay | Direction | Cinematics | Production | Extras | Overall |
| 8.0 | 8.5 | 8.5 | 8.0 | 7.0 | 8.0 |
The Final Word: 8 Mile has a good story, is well shot, and contains some surprisingly stellar performances. The DVD is a bit disappointing in terms of extra features, especially for such a high grossing movie, but the film itself makes it worthwhile. If you're a fan of hip-hop or Eminem I say pick this one up. Even non-fans could benefit from at least a rental.