About a Boy
Our DVD reviewer was not the biggest Hugh Grant fan - so a smart, moving, character-driven comedy was the last thing he expected. But that's exactly what he got!
M o v i e D e t a i l s

Format
DVD

Director
Chris Weitz

Distributor
Universal

Genre
Comedy

Release
Out Now
Alright, I'll say it: I am not a fan of Hugh Grant. I see him as the cinematic equivalent to a paper cut: painfully irritating. In fact, his now infamous run with the law in 1995 is the only time I've ever found the man even remotely interesting. So, as you can guess, I wasn't expecting much going into About A Boy. A smart, moving, character-driven comedy is the last thing I expected. That's exactly what I got.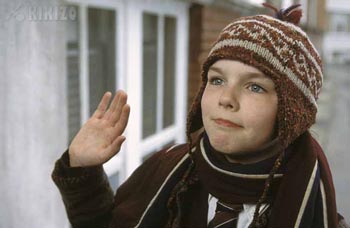 The film starts by simultaneously introducing us to Will Freeman (Hugh Grant) and 12-year old Marcus (Nicholas Hoult). Will's not your run-of-the-mill, eligible bachelor. He's a smug, shallow man who does nothing. Honestly, he does nothing for a living as he lives off of the royalties of a song his late father wrote in 1958.
When Will discovers the sexual rewards of dating single mothers, he begins attending SPAT (Single Parents Alone Together) meetings in order to meet women. It's there that he meets Suzie (Victoria Smurfit) who introduces Will to Marcus, the son of her deeply depressed friend, Fiona (Toni Colette)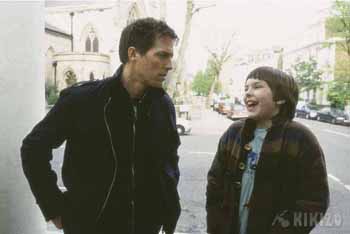 When Fiona attempts suicide, Marcus looks to Will for a distraction from the situation. After a few visits, a friendship (not the Michael Jackson kind) develops between the two as they begin to learn from each other what it means to grow up.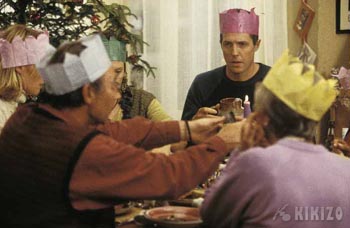 Newcomer Nicholas Hoult shows here that he has a bright acting future ahead of him. He's a child actor who is just that, an actor, and a rarity these days. Toni Colette, everyone's favorite bride from Muriel's Wedding, brings a lot to the table as the depressed and somewhat nutty Fiona. The character is deeply troubled, but Colette brings in just enough life and quirkiness to keep from depressing the audience completely.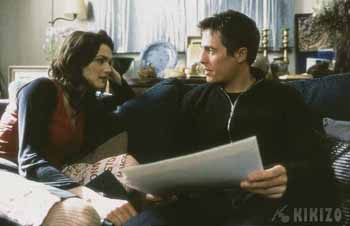 Grant plays his character flawlessly. He goes from a self-righteous, petty liar to an enlightened, generous, and loving man. He doesn't come off as annoying or whiny at all (I can't believe I'm saying this!). In fact, after watching his performance here, I now see that he truly is a fine actor. Hell truly has frozen over.
What could be more shocking than Hugh Grant's performance? How about the fact that this gem of a movie was directed by the Weitz brothers? (Yup, the guys who brought us the original American Pie) In this film, the directors tried out some new camera movements and angles to give the film a more artsy look. They succeeded wonderfully.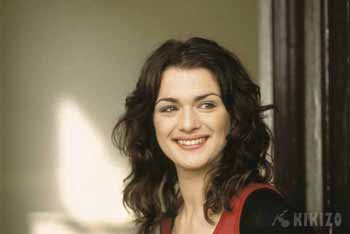 They use numerous pans to go from Will's scenes to Marcus', helping to keep the film more upbeat, a hard task considering the subject matter. They even use similar shots of Will and Marcus in different situations in order to further show how alike the two of them are. There are a few shots that, while they look nice, don't really fit into the movie. However, all in all, the Weitz brothers have done a terrific job.
What would a DVD be without some special features? About A Boy doesn't disappoint here. First, we have a screen-specific audio commentary by the directors. While it would have been nice to hear from some of the cast, the Weitz brothers are funny and give a lot of insight into the making of the film, although they do sometimes go into too much detail about specific shots.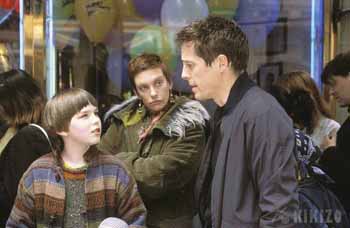 Next up we have the typical Spotlight On Location featurette titled The Making of About a Boy. Running a pathetic 11 minutes, this behind the scenes look at the film doesn't reveal much of anything. Sure we get short interviews with Grant and Hoult, but I was left wanting a lot more. Such a shame.
Luckily, we are treated to a set of 7 deleted scenes. The DVD gives us the option of watching these non-anamorphic widescreen scenes with or without commentary by the directors, who tell us why they were deleted in the first place. Some of this stuff is just as good as what is in the final cut of the film so it's nice to be able to have a look at them.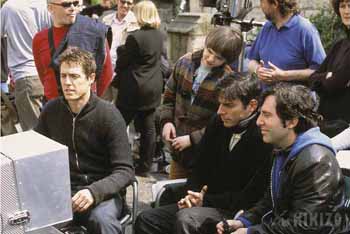 Rounding out the disc are an English to English Dictionary, which translates some of the British terms in the movie, 2 music videos by Badly Drawn Boy, some nice production notes, filmographies, and the film's original theatrical trailer.
About a Boy is one of the best films I've been privileged to see in a long time. It's a touching film about - well - about a boy. No, it's not about a 12-year old boy named Marcus. The "boy" is Will and it's Marcus. They are one and the same and only together can they become the people they were meant to be.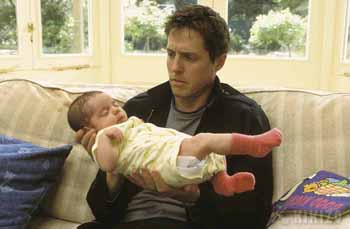 My hat goes off to Hugh Grant and to the Weitz brothers. I had preconceptions about all of them before seeing this film, but they proved me wrong in a big way. The rest of the cast is brilliant as well. Bravo!
Ryan "Rip" Berg
DVD Reviewer, Kikizo Movies
T H E S C O R E S
| | | | | | |
| --- | --- | --- | --- | --- | --- |
| Screenplay | Direction | Cinematics | Production | Extras | Overall |
| 9.5 | 8.5 | 8.5 | 8.0 | 7.5 | 8.5 |
The Final Word: A great film gets a good DVD. The deleted scenes are worth a look and the commentary sheds a lot of light onto the production. This DVD is highly recommended at the very least as a rental. Hugh Grant, I salute you!