Shaun of the Dead
Instant classic or total waste of time? Find out in our review of the new DVD.
M o v i e D e t a i l s

Format
DVD

Director
Edgar Wright

Distributor
Focus Features

Genre
Comedy

Release
Out Now
Meet Shaun (Simon Pegg) - he's stuck knee deep in the rat race, his best friend is an unemployed hash dealer and his girlfriend wants him to get up off his back side and get his life in gear. While it might sound like a pathetic situation, the truth is that Shaun is comfortable with his lifestyle and is just having a hard time changing.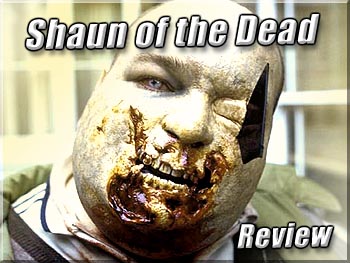 Unfortunately for him though he is in trouble of being left behind and when Liz (Kate Ashfield), his girlfriend, dumps him because she doesn't want to spend the rest of their lives together in the local pub, Shaun's life starts to collapse around him. Things go from bad to worse however when our hero wakes up and is surrounded by zombies, there's only one problem though - Shaun is too hungover to realise that the undead are all around him. After about a half dozen near misses the realisation suddenly dawns on Shaun and his best friend Ed; together they must battle zombies, rescue Liz and save the day.
Zombie movies are nothing out of the ordinary these days; we've had remakes like Dawn of the Dead and even brand new classics like 28 Days Later. Shaun of the Dead is different to all these efforts though and in fairness the best way of describing it is as a romantic comedy - with zombies. This might sound weird but it works, the real reason for its success is the characters are all so down to earth that you could mistake them for your local pub's regulars. Fans of the television series Spaced will recognise a few faces in this movie and if you enjoyed Simon Pegg's previous brainchild, then Shaun of the Dead will definitely impress. It picks up on all the little nuances in the relationships between a group of friends whilst making fun of the absurdity of the situation they find themselves in. The result is a whole host of scenes that the viewer can identify with and Shaun of the Dead becomes more believable than most zombie efforts, even though it's a blatant pisstake.
The problem with most of these horror films is the heroes themselves; they're supposed to be the average punter like you or me, but they always tend to have chiselled good looks or silicone implants. Fair enough, there are plenty of good looking people out there in the world, but I don't see many of them battling the undead with their unusually large breasts! The entire cast of Shaun of the Dead look like your next door neighbour, not only that but they act like them also whether you love it or not.
It's funny that most of the film centres around their local pub, The Winchester, because the cast are thrown together and aren't best buddies with each other. We all go down to our regular for a nice refreshing pint of whatever you fancy and there are plenty of people in the establishment that we wish rather weren't there, but for the sake of a nice pint I'd rather ignore them than leave. Shaun and Liz find themselves in The Winchester because they are going out with each other, but each party has brought their own friends and like them or lump them you've got to put up with this bunch of losers for the sake of your better half. Most of the funniest moments in the film revolve around the bickering in the social circle and all the in-jokes between friends, this goldfish view into their world is delightfully personal and full of charm.
Shaun of the Dead's cast is a bunch of loveable rogues ranging from Shaun, a thirty year old sales assistant working with a bunch of teenagers, to David (Dylan Moran), Liz's pessimistic friend who is totally besotted with her. Each of the actors involved give terrific performances and will have you chuckling in your boots; it doesn't matter whether you're laughing with or at them. Fans of British television and cinema will recognise plenty of faces, if you fancy a bit of name dropping how about Dylan Moran, the 1996 Perrier Award winner, or Bill Nighy who stole the show in Love Actually.
My favourite character in the movie had to be Ed, Shaun's best friend, played by Nick Frost. Ed is the ultimate loser and forms a permanent part of Shaun's couch as he spends his days playing PS2 and dealing hash to his mates. While Shaun might not be entirely happy about the direction of his life, at least he can look at Ed and take solace from the fact that there is someone else out there worse off than him. There is wonderful interplay between the two best friends and you can see why they are so drawn together, there is a great running fart joke throughout the film as well as a hilarious scene of their rendition of White Lines accompanied by a zombie. They might not be the funniest guys in the world but you can't help but be drawn to the movie by the camaraderie that exists between them.
This DVD is packed full of extras, even if you've seen the movie already there's plenty to check out in this release. The special features break down into five sections: Raw Meat, Zombie gallery, Trails of the Dead, TV Bits and Missing Bits. Raw Neat offers a full look behind the scenes from a variety of angles; the viewer can choose to watch personal footage from a couple of the actors, see how they brought the project to life and even the day in the life of a zombie extra! The Zombie gallery gives us a glimpse at some of the poster designs, an image gallery and a 2000 AD comic strip. The comic strip is well worth taking a look at as it captures the feel of the movie as well as summing up the cultural roots of the project.
Obviously enough Trails of the Dead runs through all the various trailers and promos that were put together for the film, if you can't remember any of the media before its cinematic release then check this feature out to jog your memory. My favourite part of the extras have to be the TV bits which are a collection of television spots that appear in the film; a word of warning however, do not watch this part of the extras until after the film otherwise you will spoil some of the movie for yourself.
The bit I have to single out for the most praise is the makers' decision to include Trisha Goddard; for those unfamiliar with Trisha, she is a bit of a student idol in the mould of Jerry Springer and she definitely doesn't disappoint with this appearance. The Missing Bits are another major reason to purchase Shaun of the Dead on DVD, as well as your usual outtakes and extended scenes the viewer is also filled in on any of the plot holes. The filmmakers also poke fun at the fact that they had to provide a clean version for some sources, needless to say the word funk is used a lot but George Clinton is nowhere to be seen!
With its merry band of misfits we are taken through all the highs and lows of a dwindling romance as well as cracking a few zombie skulls along the way. A brand of student comedy not seen since Bo Selecta shines through and you can't help but laugh as our heroes rise up from the humdrum of their daily lives (which are remarkably similar to yours or mine) and battle the undead. Normally the only time you laugh your way through a horror flick is when it's so bad it's funny, but Shaun of the Dead is a different kettle of fish; the film is packed full of observational comedy as well as taking the mickey out of the absurdity of scary movies. With a whole host of standout performances from relatively unknown stars, it's worth checking out this film to see the depth of talent British cinema has to offer. The storyline might fizzle out towards the end due to such a frenzied finish, but Shaun of the Dead's comic roots ensure that that you'll be laughing your way to bed long after turning off your DVD player.
Piaras Kelly
Editor, Kikizo Movies
T H E S C O R E S
| | | | | | |
| --- | --- | --- | --- | --- | --- |
| Screenplay | Direction | Cinematics | Production | Extras | Overall |
| 8.2 | 7.8 | 8.3 | 8.1 | 9.1 | 8.3 |
The Final Word: Shaun of the Dead is one of the most underrated films of the past year but is definitely on its way to becoming a cult classic. While Shaun of the Dead might be full of brain-dead zombies, the film proves to be one of the most imaginative and funniest movies to have been released in long time.