The Girl Next Door
You could be forgiven for thinking this is a cheap American Pie imitation - but you're not. So is this DVD a rental or a buy?
M o v i e D e t a i l s

Format
DVD

Director
Luke Greenfield

Distributor
20th Century Fox

Genre
Comedy / Romance

Release
Out Now
Meet Matthew Kidman, a high school senior who has got everything going for him - except a social life. While he may ace all his classes and have a place in Georgetown University lined up, he can't seem to connect with the majority of his classmates. Matthew dreams of having a little excitement in his life but like his friends, Eli and Klitz (clever wordplay there eh?), nothing ever seems to happen to him. That is until Danielle pops into his life, everything seems to click between them and Matt's life seems to be going up and up. There's only one itsy-bitsy detail that he doesn't know about the love of his life - she's an ex-pornstar. It turns out that the girl next door isn't as innocent as she seems; from the moment Matt finds out, his life is turned upside down and by the end of this movie it's safe to say that things will never be the same again.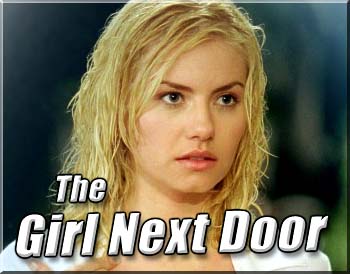 Most people will think that this movie is just an American Pie knock-off but to be honest it has more in common with a film like Risky Business than today's teen comedies. The Girl Next Door is surprisingly sweet in parts; instead of being about Matt's quest to get laid, it's a tender comedy about a boy falling in love for the first time. The laughs are more out of embarrassment for the young man than for some gross-out moments, but there are also plenty of moments where your heart goes out to the two leads characters played by Emile Hirsch (Matt) and Elisha Cuthbert (Danielle). The makers of the movie said they wanted to go out and recreate the feeling of kissing a girl for the first time when you just forget about everything else going on around you and just go with it. That sums up the film in a nutshell and you can't help but crack up laughing at everything that happens as Matt lets go to chase the girl of his dreams.
This is one of the most understated comedies of recent times; I think most people may have avoided it in the cinemas because they thought it was going to be along the lines of Road Trip or Slackers. The Girl Next Door is a far more serious attempt at the teen comedy genre though, instead of good looking jocks trying to get their rocks off the three male leads are ordinary looking guys like you or me. They're not as perverted as Jim from American Pie (with the exception of Eli) and you can't help but like them despite their comic nature. While cracking jokes at their own expense there are some heart felt moments like when Klitz confides in Eli, asking him whether he thinks he's ugly or not. The viewer is able to identify with the three amigos much more than other characters from similar films because they are much more down to earth in terms of appearance and personality. For these reasons the film marks a much more mature approach to the genre and it stands out because of it; combined with some great performances and some hilarious scenes, The Girl Next Door goes down as the funniest movie I've seen all year.
Before seeing this film I hadn't heard of any of its stars without the exception of Elisha Cuthbert, but I'm not a fan of 24 so I only barely recognised her. I was all the more surprised by my unfamiliarity with the actors after the movie because almost the entire cast were highly impressive throughout. Emile Hirsch and Elisha Cuthbert are undoubtedly the stars of the show, there is beautiful interaction between the two leads and you follow their every movement on screen with great interest. Hirsch plays the straight laced Matt, his character is so easy to identify with as he plays the nervous and shy teenager just waiting to blossom with ease. This is the first comedy he has filmed and his previous appearances in serious roles like in The Dangerous Lives of Alter Boys lend to his strong performance in this movie. Elisha Cuthbert just takes your breath away in The Girl Next Door; I remember walking out of the cinema after I had seen this movie thinking of how much she reminded me of Marilyn Monroe. The famous scene from the film's trailer where Matt is caught watching her character undressing gets the blood pumping, I almost started cracking up the first time I watched it because all the women in the audience started to glance over at their boyfriends miffed by the fact that they were captivated by her presence. Danielle is like a siren from ancient times; she plays the temptress to perfection and has Matt eating out the palm of her hand. It is so easy to see how Hirsch's character falls in love with her despite her murky past and thanks to the wonderful interplay between both actors The Girl Next Door is a resounding success.
There are also a few great performances on the undercard of the movie with Chris Marquette and Timothy Olyphant stealing scenes at times. Marquette plays one of Matt's best friends, Eli, and is about the closest thing you'll get to Stifler in this movie. He's not a cool teen or anything, but he's undersexed and seems to have a testosterone imbalance. As a result he seems to constantly be giving Matt bad advice when it comes to girls and you come to think of him as the little red devil that sits on his best friend's shoulder. The standout performance of The Girl Next Door however is reserved for Olyphant; he play's Kelly, Danielle's ex-boyfriend and porn producer, and manipulates everyone he comes across. Kelly is the key to Danielle's way back to her life as an adult entertainer and if Matt is to win her heart he has to make sure Kelly steps out of her life. Olyphant's character has this intensity that will have you thinking he's the coolest guy in the world one minute and a complete scumbag the next. By throwing all the characters into the mix there is a blend of completely contrastable individuals which makes for a highly entertaining film.
The extras in this DVD are fantastic, the highlight of the package has to be The Eli Experience featurette which sees Chris Marquette who plays Eli go to the AVN awards and tape some impromptu comedy sketches. Together with a few crew and cast members they set about either making fun of some of the performers and audience members at the show. Marquette pretty much walks about as his character, Eli Brooks, for the entire session and pretends to be an adult film director; he goes about acting like a prima donna whilst being sarcastic to unwitting porn stars and setting up members of the public for porn tryouts. The real star of the piece is Matt Wiese who is better known as Luther Reigns on WWE programming; he's so dead pan, it's fantastic! This huge colossus of a man takes liberties with the public by pretending to proposition men for sex and walk in on the end of the porn tryouts pretending that he is a gay porn star. He literally walks up to people dwarfing them in the process; I'm surprised they got so many good takes because I thought people would have just run away scared at the sight of him.
On top of that there are tons of other extras for The Girl Next Door DVD, including all your typical extras like commentaries, a gag reel and deleted or extended scenes. There's also the 'Making Of', Sex Education, Still Gallery, Trailer and an inside look at Taxi and The Ringer. Taxi is the new Jimmy Fallon flick, but has nothing to do with the sitcom; the comedian stars as a cop who can't drive and teams up with a taxi driver played by Queen Latifah. The Ringer is the new Johnny Knoxville comedy about one man's attempts to rig the Special Olympics, there's only a trailer for this film but it's sure to cause controversy when it is released. I think jam packed is the best phrase to use when summing up the extras; it's definitely worth renting the DVD even if you've seen the film in the cinema already because there is just so much more to the movie with all the extras. Heck even if you've watched the DVD before, renting it again makes for a good excuse to lay eyes on Elisha Cuthbert!
Piaras Kelly
Editor, Kikizo Movies
T H E S C O R E S
| | | | | | |
| --- | --- | --- | --- | --- | --- |
| Screenplay | Direction | Cinematics | Production | Extras | Overall |
| 8.9 | 8.6 | 8.1 | 8.2 | 9.2 | 8.6 |
The Final Word: The Girl Next Door is an absolute must for a DVD rental; I've seen this movie three times already and went out to buy the DVD anyway. Even though it takes a more mature approach to the teen comedy genre, it's one of the funniest movies to come out of Hollywood for years. Emile Hirsch and Elisha Cuthbert are beautiful together on screen and they're backed up by a completely underrated cast who are a barrel of laughs. In terms of DVD extras, The Eli Experience is one of the funniest things I have ever seen, even if you got a chance to see the film in the cinema it's worth renting the DVD for this featurette alone. The Girl Next Door takes your breath away and leaves you begging for more!