2 Fast 2 Furious
Creativity in title aside, with no Vin Diesel in this sequel, is 2F2F merely 2 Lame 2 Bother?
M o v i e D e t a i l s

Format
Theatre

Director
John Singleton

Distributor
Universal Pictures

Genre
Action

Release
June 6 (us)
July 20 (uk)
The clever name department of Hollywood has really outdone itself this time. For once, the name of a film reflects just how bad the movie itself is likely to be. Simply calling the sequel to 2001's feeble witted, car obsessed teen hit, 'The Fast and the Furious 2' obviously wouldn't have been cool enough. Instead, this vacuous follow-up has been dubbed 2 Fast 2 Furious, as part of a marketing campaign we can logically assume is being targeted at 17 year old boys with bleached spiky hair.
Sex, explosions and rock music sells. Squeezing content somewhere in between is a secondary concern. Consequently, we can probably expect 2F2F to deliver more of the same. Hot cars racing around for whatever reason they come up with and hot slutty babes tramping around to keep things decorative. It's a simple formula that, while painfully shallow, works to put guys in seats.
However, this time there isn't even the charismatic Vin Diesel to make things a bit more palatable. What we're left with, therefore, is the empty-headed Paul Walker, still playing undercover cop Brian O'Connor, infiltrating gangs of street racers.
Stripped of his badge, after his stunt at the end of the first movie, O'Conner is given a final chance to redeem himself and teams up with ex-con, Roman Pearce (Tyrese Gibson), to infiltrate a group of criminals and transport a shipment of "dirty" money for a shady Miami import/export dealer, Carter Verone (Cole Hauser). Unknown to the crime ring, O'Connor is working with undercover agent Monica Clemente (Eva Mendes) to bring Verone to justice.
If you think we're being harsh, how about this for a recent quote from Walker...
"Tyrese and I are supposed to be like brothers in the movie. You should just see us on set, smacking each other in the back of the head, giving each other dead arms all the time.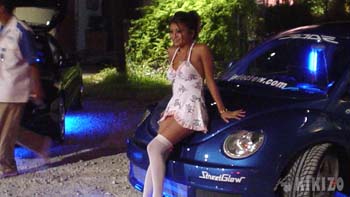 "We have a barrel race sequence, where guys are basically racing for pink slips for cars, which is pretty phenomenal. We got some big jumps."
And, to end on a tempting note, he added this little titbit: "There's a lot going on. A lot of eye candy, a lot of good looking girls too."
Quite.
John Gold
Film Critic, Kikizo Movies