Batman Begins
Can Chris Nolan's influence take Batman back to the darkness fans love? An early look at Batman Begins.
M o v i e D e t a i l s

Format
Theatre

Director
Christopher Nolan

Distributor
Warner Bros.

Genre
Action

Release
June 17, 2005 (us)
July 30, 2005 (uk)
Batman on celluloid was something of a taboo subject before the announcement of Batman Begins; the detestable cheese fest that was Batman and Robin took its cue from the much derided and ridiculously camp 60's TV show - something Batman fans weren't at all pleased about. For what seems like an eternity, those fans have longed for a movie adaptation of Batman that retains the comic book's fantastically dark tone. With Batman: Year One still in production limbo, it falls on Director Christopher Nolan (Insomnia, Memento) and the new face of Bruce Wayne (the consistently impressive Christian Bale) to tender a batman movie that the fans can finally enjoy.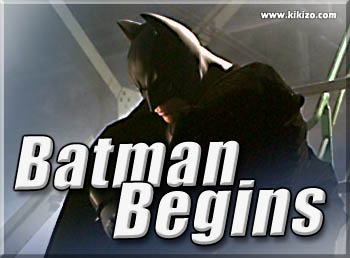 And if the deluge of rumour-mongering and factual snippets is anything to go by, Batman Begins is shaping up to be a project with an awful lot going for it. Aside from the inspired casting of Christian Bale as Batman, the decision to draw heavily on the Batman: Year One graphic novel for the movie's dark and gritty tone is one that fans have welcomed wholeheartedly. What's clear at this stage is that a great deal of effort is going into this one, perhaps more than any previous Batman film.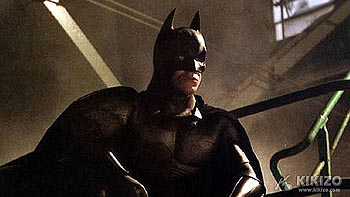 Not least because of the slow but steady trickle of conceptual and actual images being drip-fed to the press by Warner Bros. Whether it be the radically different Batmobile (which looks like a cross between a tank and a dune buddy) or the new Batman costume, fans are being provided with new snippets on an almost weekly basis - this from a film not due until next year!
But if you require absolute proof of just how promising Batman Begins really is, look no further than the frankly stunning assembled cast: Bale might have been enough to carry this film alone, but when you've got Michael Cane, Morgan Freeman, Ken Watanabe, Gary Oldman, Liam Neeson, Rutger Hauer and the gorgeous Katie Holmes on board as well, you start to wonder how this one could possibly fail to impress. Seriously, answers on a postcard, people.
Promising is far from being a dead cert, we know that all too well: so many films that looked the business at the conceptual stage have fallen flat on their face because of a less than commendable story. Thankfully, what scant details there are with regards to Batman Begins story and script warrants cautious optimism, least of all because it's taking us back to the origins of the Dark Knight.
Powerless to stop his Parents' murder, and too weak to get his vengeance, a young Bruce Wayne (Christian Bale) makes his way to Asia, seeking the help of a dangerous band of outlaws, lead by the 600-year-old Ra's Al Ghul (Ken Watanabe). Ready to take revenge on the murderer of his parents, Bruce's return to Gotham City is met with a crime wave and rampant corruption. It is with the discovery of a cave underneath his Manor Estate that Bruce Wayne adopts the mantle of the Dark Knight - defender of justice and worst nightmare of the common Gotham crook.
Rarely has one film courted so much interest so early on. Warner Brothers is playing its cards right both with the press at large and dedicated Batman fans by drip feeding each entity with pictures and details that wouldn't have appeared so early on in production. The truth is, it's indicative of just how much people want to see this film, be they comic fan or dedicated moviegoer.
We just hope you can hold out till the June 17th 2005 release date currently pencilled in because until then, Batman Begins might just be the beautiful dream fans across the world have been waiting for.
Jamie Thomson
Film Critic, Kikizo Movies