DareDevil
Rushed into theatres before certain other superheroes arrive later this year, DareDevil is the latest big-screen blockbuster with a guy in a costume. Is it any good?
M o v i e D e t a i l s

Format
Theatre

Director
Mark Steven Johnson

Distributor
New Regency

Genre
Action

Release
Out Now
With fellow Marvel Comics superhero Spider-Man breaking box-office records last year, is there an audience for yet another saga of a man who acquires amazing powers? Studio Fox seem to think so; casting Ben Affleck as blind Matt Murdoch - aka Daredevil - opposite stars of the moment Colin Farrell, as Bullseye, a psychotic and ruthless assassin with perfect aim and Jennifer Garner, as martial arts femme fatale Elektra Natchios, Matt's love/hate interest.
The story is as you'd expect: at the tender age of 12, Matt Murdoch is splashed in the eyes with radioactive waste and loses his sight - but his other four senses subsequently develop with superhuman sharpness. He grows up to be a bleeding-heart lawyer, running a law practice with his best friend Foggy Nelson (Jon Favreau) and chasing beautiful women, including the bright and fearless Elektra.
By night Matt is the masked vigilante Daredevil: The Man Without Fear, using his incredible senses and abilities to defend the downtrodden in New York City's Hell's Kitchen and hunting down criminals who've beaten the system.
Daredevil, the movie, stays true to all the elements that are pervasive in the Marvel Universe: drama, love, action, violence, revenge, a spiteful police department and, best of all, the probing reporter on a quest for the truth. Movie-goers will become familiar with the events that become catalysts in Daredevil's crime-fighting career, including the death of his father (David Keith) at the hands of the mob and the victimisation of those close to him. The villainous underworld figure, Wilson Fisk - aka Kingpin (Michael Clarke Duncan) - and his hired hand, the psychotic and malevolent killer Bullseye, are Daredevil's foes and the battle between good and evil ensues.
Daredevil's appeal is that he does not posses any superpowers, which makes Affleck a good choice to play this rather vulnerable crime fighter. Although he beefed up for the role, and at 6-foot-3, has the required athletic physique, Affleck still retains that guy-next-door quality that makes both Murdoch and Daredevil so sympathetic.
Jennifer Garner, better known as Sydney Bristow, in Alias, is martial arts expert, Elektra, who kicks Daredevil's ass with the athleticism and charisma that works as sexily on the big screen, as on the small.
Colin Farrell's role, is modest, but scene-stealing, as Bullseye, the ruthless assassin, complete with nervous tics and shifty eyes, hired by crimelord, Kingpin, to kill Elektra and her father.
As far as villains go, no one could be better suited for the role of Kingpin than the larger-than-life Michael Clark Duncan (The Scorpion King). This massively muscled character had to be played by someone with a powerful presence and sophisticated intellect and Duncan fits the bill perfectly.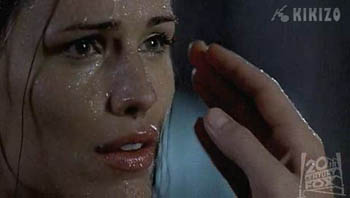 The decision to place Mark Steven Johnson at the helm of Daredevil surprised many people. His 1998 directional debut, Simon Birch, and his screenwriting credits, Grumpy Old Men, and the dreadful Jack Frost, hardly seemed on a par with an action adventure feature like this. Johnson's inexperience with digital effects becomes apparent in some of the movie's action sequences, such as a CGI Daredevil running up walls and leaping from rooftop to rooftop. The animated version of Daredevil doesn't move naturally and lacks details like muscles, highlights and shadows.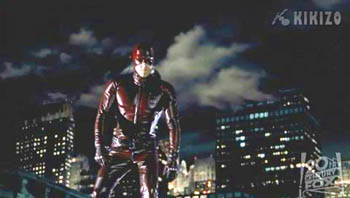 Then again, Daredevil didn't have the huge budget of, say, Spider-Man but what it lacks in special effects, it makes up for in gritty realism. Daredevil's mission is to rid Hell's Kitchen - not the universe - of as much crime as he can and his vendettas are personal, as well as grotesquely violent. More importantly, Johnson's screenplay stays true to the original comic book characters. Fans of the comic book will appreciate the faithful touches, such as Bullseye's maniacal talents, which include the ability to turn a paperclip into a deadly weapon, and Kingpin's ritualistic removal of his blazer before pounding the snot out of his adversaries.
More akin to The Crow than Batman, Daredevil is more action, than plot. One of the lead goodies is viciously slain - which really does darken the tone of the movie in a way that the "dark" Batman movies never dared do. The film plays heavily on the dualities of dark and light, good and evil and romance and violence. Will there be a Daredevil 2? Probably, but don't hold your breath for the kiddies' toy range. Oh - and stay until the end of the credits for an important plot revelation.
John Gold
Film critic, Kikizo Movies
T H E S C O R E S
| | | | | |
| --- | --- | --- | --- | --- |
| Screenplay | Direction | Cinematics | Production | Overall |
| 6.5 | 7.1 | 8.2 | 8.1 | 7.1 |
The Final Word: It doesn't have the all-the-family appeal of Spider-Man, but should develop a large following of teenage boys responding to the film's mean streak.