The Incredibles
Pixar's final film to be released by Disney is here, and frankly, it's awesome.
M o v i e D e t a i l s

Format
Theatre

Director
Brad Bird

Distributor
Walt Disney

Genre
Animation

Release
Out Now
Over the past couple of years we've seen a slew of superhero films hit cinema screens, each proclaiming the virtues of the featured do-gooder and trying to dazzle the crowds. Unfortunately, in the majority of cases the special powers on offer tend not to be so amazing after all, and after two hours of action you wished the action stayed on the comic book page.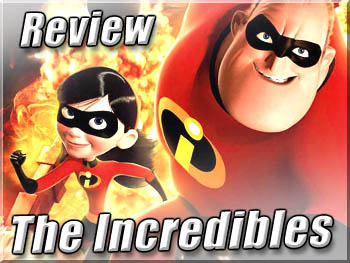 So after suffering the horrors of Daredevil and The Punisher, I wasn't particularly looking forward to another superhero flick. It looks like I spoke to soon, because The Incredibles is easily one of the most entertaining movies I've seen all year.
It doesn't matter if you're a comic book diehard, Pixar fan or an average punter; there is something in this movie for everyone. Despite being new to all audiences and having a wide range of characters to introduce, The Incredibles flows seamlessly from start to finish. Contrast this to any of the X-Men movies, both of which struggled to cope with the multitude of mutants at hand. More importantly, almost every comic book hero has to try and cater for the hardcode comic fans as well as the general audience, but Pixar's latest offering is free of this burden and the results are obvious for all to see.
The Incredibles is jam packed with action, comedy and glorious animation. It seems that Steve Job has carried over Apple's tagline to Pixar, because 'It just works!' As a result The Incredibles is easily one of the best superhero movies, and if the standard of its peers is anything to go by, then it shall remain close to the top for some time. Best of all, the film is suitable for people of all ages, making it ideal for a family day out. The only thing that annoyed me during the screening was the pitter-patter of children as they scrambled from the toilet, eager not to miss a minute of the mayhem.
The film opens with Mr. Incredible on the top of his game, juggling crime-fighting with his personal life and meeting success at every corner. However his world turns on its head when a rash of lawsuits are filed against him. One good turn deserves another, except in America where it's likely to greet you with being sued. The US government are forced to enter the world's superheroes into the witness protection program as they struggle to cope with the ensuing settlements. Now yesterday's champions of liberty are today's pencil pushers.
Mr. Incredible has been forced to hang up the spandex and swap his secret hideout for a cubicle. He is only known by his secret identity, Bob Parr, and slugs through a dreary existence in an insurance firm. His only outlet is listening to the police scanner ever Wednesday evening, but he is struggling to cope with everyday life. Things aren't so special anymore and everything seems to be passing him by, not that Bob really cares. Only the odd mugging snaps him out of his shell, and the Mr. Incredible of old begins to rear his head again.
When an opportunity to relive his glory days is offered to him, Bob jumps at the chance. Pulling on his costume reawakens ancient feelings, although his bulging belly means that he keeps one foot in the present. His venture back into crime fighting is a breath of fresh air into his life and immediately things take a turn for the better. However unbeknownst to our hero, he has started a sequence of events that will change the face of the world as he knows it.
The next couple of hours are a tremendous blend of action and comedy, resulting in one of the best trips to the cinema I've had in a long time. In fact I enjoyed it so much that I saw it twice! Obviously enough, animation is a tremendous medium for bringing the imagination of countless comic book artists to life. However some parts are so lifelike that you'd be forgiven for thinking that some scenes were shot on the street. One can only sit back and appreciate the work involved.
As a result Pixar are able to allow their heroes to express their abilities without constraint. You won't be squinting to spot any wires or roll your eyes back at any obvious CGI. Instead characters like Elastigirl or Frozone are able to recreate the actions of their comic book counterparts like Plasticman and Iceman. The intertwined humour leads to some rather amusing situations as superheroes, new and old, get into all sorts of trouble in their bid to save the day again.
Who ever thought domestic disputes and crime fighting would ever go hand in hand? It seems that family life doesn't get any easier even if you can turn invisible or run faster than a speeding bullet. The everyday squabbles put everything into context and make the film's characters easy to relate with. I'm just glad Mr. Incredible is going through a midlife crisis; it makes mine much easier to deal with.
The Incredibles evokes memories of Bryan Singer's X-Men as Rogue and her counterparts show off their powers for the first time, but Pixar's characters get to showcase all of their abilities without having to give way to introducing other heroes. The plot and action are perfectly balance so that when the credits finally start to roll, you'll have a smile stretched from ear to ear. I'm expecting a sequel, but the film stands on its own ground as a single release unlike Marvel's effort.
Hollywood producers should sit up and take notice. Take a leaf out of Brad Bird's formula for success next time you think of bastardizing a comic book classic. It marks a perfect blend of animation, comedy and action that's suitable for the whole family. So pencil in a trip to the cinema next Saturday because you'll be in for a treat.
Piaras Kelly
Editor, Kikizo Movies
T H E S C O R E S
| | | | | |
| --- | --- | --- | --- | --- |
| Screenplay | Direction | Cinematics | Production | Overall |
| 8.9 | 8.7 | 9.0 | 9.4 | 9.0 |
The Final Word: There's only one word to sum up this movie: incredible! Pixar flex their muscles once again and show why they are top of their game, offering one of the best superhero films ever in the process.